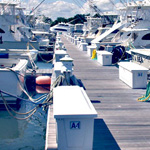 Archived Posts From: 2019
Written on: February 1st, 2019 in Fishing Report
As you might imagine, the severe winter weather has slowed down all maritime activities for most people in the Mid-Atlantic region. We've seen ice in the basin at least twice since the beginning of the month.
That being said, those few brave anglers who bundled up and sailed out of Lewes, Ocean City, and the Inlet pulled up some >10lb tog. Not many people are out, so there are plenty of spots to post up.
We have a couple nice days in the forecast, and we still have charters running so give us a call at 302-227-3071 if you want to get into hardy winter fishing!
DON'T FORGET to come see us at the Ocean City Boat Show from February 15-17 in our usual spot!
As always, tight lines and good times.