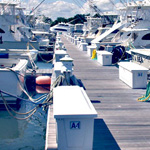 Archived Posts From: 2019
Written on: February 22nd, 2019 in Fishing Report
Well folks, we are one wet, windy week closer to the beginning of warm weather!
THANK YOU to everyone who visited us and our Charter Captains at the OC Boat Show. It was an awesome turnout with thousands of people over the three days.
Captains are still reporting heavy tog, slowly getting their limits if they bounce around enough. The water temperature is up a little bit, now around 43 degrees, so hopefully it continues that trend.
We are busy getting our Kids Catch All Tournament ready for June 21-23, so make sure you've got it on your calendar!
Until next week, tight lines and good times!