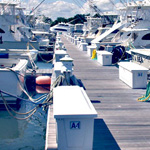 Archived Posts From: 2019
Written on: October 20th, 2019 in Fishing Report
Well the weather sure has not been cooperating with us much this fall.   We had a few boats venture out yesterday with not much to report except a few Seabass.  We will post more if we hear from any of the Captains that fished Offshore.
The marina has many large dock projects including some maintenance dredging and we are asking if you are not using your vessel please schedule your haul out immediately.   We need the boats out of the water as soon as possible this year so all construction can start on time.  We have been sending reminders of this construction since August and your cooperation is much needed.
Have a great Harvest season and till next time Tight Lines & Good Times.