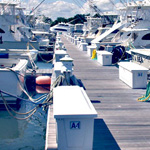 Fishing Report for 2/9/21
Written on: February 8th, 2021 in Fishing Report
Not much is happening at the Marina at this time.  We haven't had any of our vessels hitting  the open waters lately.  The strong winds,  storms and cold temps have kept everyone tied down tight.  We are into a lot of winter projects around the Marina and we have gone through many challenges thus far.  Please send warm thoughts not only for the good days ahead but for the staff members we have lost due to COVID-19.  We will continue to do our best to be available to the public and will continue with strong COVID-19 safe practices and guidelines.
Hope to have some reports coming soon.  Let's all keep fingers crossed for some better weather and some great fishing!!!
You may want to get your trip booked NOW!  Last year was an extremely busy year for our Charter's and we expect to be even busier this season.
Till next time Tight Lines & Safe Times for all!!!