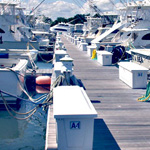 Archived Posts From: 2021
Written on: August 21st, 2021 in Fishing Report
Fishing has been great the last couple weeks and it seems to be staying that way.  There have been lots of exciting tournaments and tons of fish weighed in for all of them.
Offshore we have seen White & Blue Marlin releases.  The Mid-Atlantic Tournament which just ended yesterday saw a 1,135 lb Blue Marlin at the Scale!!  WOW!!!  what a fish!  We have seen Mahi, Wahoo, Yellowfin and Bigeye Tuna all hitting our docks daily.
Inshore reports of Sea Bass, Flounder, Croaker it seems as though there is plenty of fish to be landed.  So give us a call and get hooked on your own charter of a lifetime at 302-227-3071.   Ask for Carolyn she will get you all rigged up with one of our Charters.
Don't forget the Fishermen's Flea Market Sunday September 5th 2021 from 9:00am -2:00pm.   There will be plenty of goodies to choose from or rent a space for $20.00 and bring all your new and old fishing gear that is stuffing your sheds and garage.  🙂  Call 302-227-3071 for more information.
Till next time Tight Lines & Better Times ahead!!!