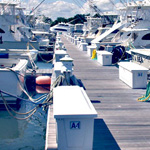 Written on: April 19th, 2019 in Fishing Report
Good Friday? More like Great Friday! The weather is windy but warm, and it's all uphill from here.
Tautog are still minimal from the inlet and inshore. They're making room for flounder – no reports yet but they're coming any day now.
Heard rumors of a couple bluefish being pulled out of the inlet as well as one or two keeper rockfish (and plenty of shorties).
Water temperature is hovering around 50 degrees, so get ready for tuna season.
Big news this week as we are officially OPEN for the season! Our Ship Store is open Weds-Sat, and today is the first day for Hammerheads Dockside's season!
PS – Don't forget to get the Kids Catch All Tournament on your calendar for June 21-23, 2019. Two nights of dinner, raffles, and family fun. No angler goes home empty-handed! Check it out at kidscatchall.com
Written on: April 13th, 2019 in Events, Fishing Report, News
It might not be sunny, but at least it's warm! Looking forward to this weather break. Hopefully it sticks.
Tautog are down for the count. Thank goodness coming in right behind them – we have the first flounder reports of the year that came out of the Indian River Bay on Sunday – one keeper and two shorts. Not much more information on those.
More good news, after a couple weeks of shorties, the first keeper (33 inch) striper was reported to come out on a bucktail on the north end of 3R's in Delaware Seashore State Park. Anglers have been pulling shorts up steadily from the rocks at the IR Inlet and from the beaches as well.
Don't forget – June is coming up quickly and so is our Kids Catch All Tournament! No experience necessary – open to youth anglers age 3-18, and every entrant receives a prize! Two nights of dinner, raffles, and family fun! Check out kidscatchall.com or call us at 302-227-3071 to find out more!
Written on: April 5th, 2019 in Fishing Report, News
Coming to you live from a chilly, rainy marina. Hope everyone was able to take advantage of one of the weather breaks we've had this week.
Reports say anglers are pulling short stripers (15-20 in.) out of the Inlet pretty consistently in the early morning and the late afternoon. Best bait is either artificials or bloodworms. Hook 'em and Cook 'em is open (weather permitting) on weekends now, but make sure you call ahead to check! 302-226-8220
After all of these weeks of tog being the only game in town, they practically dropped off the map this week. All boats that actually made it out in the wind reported poor catch results.
Water temperature is still hovering at 46 degrees. Kick it up a little, Mama Nature!
P.S. Make sure to follow our Instagram at indian.river.marina to get non-fishing updates (and pretty pictures of the ocean).
Written on: March 30th, 2019 in Fishing Report
Before we get started, a quick THANK YOU to whatever higher power gave us this beautiful Saturday. Hope everyone got a chance to soak in some of the vitamin D.
Guess what? There's still tog out there, and they are still slow to the bite! But it's good looks for the future. Current water temperature in Rehoboth is about 46 degrees.
Reports of a couple small rockfish being caught out of Indian River Inlet. It's a little early for anything consistent, but hey, at least it'll get you out of the house. IR Inlet fishermen were also pulling up some short striper (15 inch average) earlier in the week. The key is getting there at outgoing tide and using small swim shads and bucktails.
They are tearing up the tuna down in the Carolinas. As soon as the water gets a little warmer, they're headed straight for us. Probably another month or so.
Charter Boats have already started booking summer trips!! Click here to check out the charter boats page and find information on how to book.
Can't wait to see all the lines coming off the jetty again. See y'all
Written on: March 23rd, 2019 in Fishing Report
Welcome to spring! Nothing like gale-force winds to break in the new season. Weather tomorrow is supposed to be beautiful, so take some quality time today to untangle your lines and toss those old worms you thought you'd get to use last fall.
If you're looking for something uneventful to do, try tog fishing. The cold weather is keeping them slow, but they'll still come out if you're patient.
Anglers are reporting short rockfish coming out of the Inlet. Try and get here right before high-tide and you'll have better luck. No more stripers reported out of here, but one popped up down in OC. Bring out some small shads – that seems to be the lucky pick.
Water temperature reading is 41 F so be on the lookout for schools of striper – they're a-coming.
Check out our new instagram page at indian.river.marina! See y'all on the web!
Written on: March 15th, 2019 in Fishing Report
The weather outside has been deceivingly sunny and warm the past few days, but if you tried to go to the beach, you probably got pretty sandblasted.
I know everyone is tired of hearing it, but the tog are still steady. The water temperature is the same, despite the warmth. Temperatures are supposed to drop back down to "normal" this Sunday.
Two firsts this week: first striper was caught at the Indian River Inlet today by Chuck Davis. Nice catch! And the first osprey sighting at Delaware Seashore State Park right at the Inlet bridge.
Tuna are still hot down in North Carolina. Save some for us, guys! 🙁
The marina Ship Store's grand opening is set for Easter weekend! Hammerheads Dockside will also be open by then, so come on down for tarps and drinks!
Five more days, people… Hang in there.
Written on: March 8th, 2019 in Fishing Report
Hope everyone made it through the late-winter freeze okay. The water temperature dropped a couple of degrees. That being said, hope is on the horizon.
Tog are still scattered, with most anglers catching limits of decent tog. Reports say they were up to 27″ out of OC.
Tuna are flooding the Oregon Inlet in NC according to reports. Massive blue fin were reeled in, up to 107″, all weekend, and yellow fin were hitting the deck like crazy. We're looking at a few warm days in a row coming up, so be ready to get out there and enjoy it! As soon as the water temperature hits over 45, we're betting all those tuna are gonna come up to enjoy it!
We're all white-knuckled waiting for this weather to break. Hold on y'all, not much longer.
Liked always, thanks for reading. Not too much longer until those tight lines and WARM times!
Written on: March 1st, 2019 in Fishing Report
It's hard to be positive in the face of next week's freeze, but spring is only 19 days away!
Captains are still landing heavy tog, up to over 10 lbs. Patience is the key here. Cold fish = slow bite.
Those lucky enough to be in North Carolina right now are enjoying thick yellow-fin, blue-fin, and black sea bass. Be ready – those fish are headed our way as soon as the water warms up! To prep for the upcoming season, you might want to take advantage of the low tides we've been having to check out sandbar locations.
If you haven't already, make sure you get the Kids Catch All Tournament on your calendar for June 21-23. Revenue generated from this event goes to the Lyme Disease Association of Delmarva (LDAD). If you're interested in registering your child, sponsoring our event, or have any other questions about the tournament, give us a call at 302-227-3071 and check out the website at kidscatchall.com .
Thanks for reading, and get ready for tight lines and good times! 
Written on: February 22nd, 2019 in Fishing Report
Well folks, we are one wet, windy week closer to the beginning of warm weather!
THANK YOU to everyone who visited us and our Charter Captains at the OC Boat Show. It was an awesome turnout with thousands of people over the three days.
Captains are still reporting heavy tog, slowly getting their limits if they bounce around enough. The water temperature is up a little bit, now around 43 degrees, so hopefully it continues that trend.
We are busy getting our Kids Catch All Tournament ready for June 21-23, so make sure you've got it on your calendar!
Until next week, tight lines and good times!
Written on: February 15th, 2019 in Fishing Report
Hope everyone enjoyed Valentine's Day either with someone that they love or doing something that they love! It was another week of up-and-down weather with temperatures ranging from kind-of-cold to very-cold.
Inshore fishing remains fairly stable with heavy tog hitting the decks of patient anglers. With the water temperature hovering around 40, tog are slow and light to bite, but certainly well worth it!
Rumor has it that the northern DE region has your choice of blackfish and ling once you hit ~160ft depth of water. Even further north and further offshore they are reporting jumbo porgies, more ling, and lots of cod.
The time has finally come folks – today is the first day of the Ocean City Boat Show! We are manning the booth all day today, tomorrow, and Sunday, so stop by and ask us all of your burning questions, or just say hi!
Until next time – tight lines and good times!