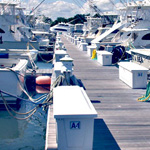 Fishing Report for 8/29/19
Written on: August 29th, 2019 in Fishing Report
Happy Labor Day Weekend!!!
It looks as though the weather is going to settle down and our boats will leave the docks this weekend.
Before the blow we had some great fishing reports and fish hitting the docks like Flounders, Tunas, Tilefish, Mahi and many Marlin Releases.  With the weather being just right let just hope the fish will bite for all the boats headed out over the weekend.  We will keep you posted as soon as we receive some reports.
Upcoming events Saturday Sept. 7th 9am-2pm The Fisherman's Flea Market in the parking lot in front of Tackle Shop in Marina.  This may not be a huge event but this I can say, the equipment and gear your fellow slip holder's put out is plentiful and sometimes quite unique.
The 1st Annual Autunm Art Festival is Saturday Sept. 14th 10am-5pm.  We will have all sorts of fun from over 60 art vendors, food, pumpkin painting, pinata's, face painting, music, craft beer and wine tasting under the new pavilion and much more…so bring the entire family down for the event.
Hope to see you at all of our events in September.  Till then Tight Lines and Great Times!!!!