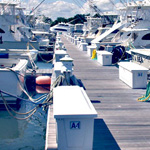 Archived Posts From: 2015
Written on: June 5th, 2015 in Fishing Report
The weather has not cooperated with us lately….  Wind and rain  has kept alot of boats tied tight this week.  Today is the first day of the Mako Mania and many boats headed out for their first day of Shark fishing.  Here are some pics from last week .
This golden tile was caught by Herb Jenkins while deep dropping squid at the Baltimore Canyon. This tile fish weighed 9.3lbs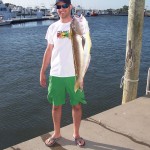 Lynn Ceritano of Frankford, DE caught a 53.6lb black drum while her friend Tommy Cline of Millsboro, DE. caught a 21lb black drum. They were fishing in the Delaware Bay off of Fowler's Beach using clams.
The fish is almost bigger than Lynn!!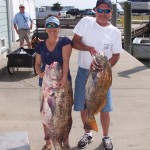 Mary Lou Kachel of Temple, PA, caught this 3.8lb flounder drifting at the VFW Slough using squid.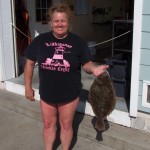 More pics to come and we will keep you posted on the Tournament Fishing.  Get the kids signed up for the 2nd Annual Kid's Catch-All Tournament June 26-28 here at IRM.  Food, Raffles, games and fun for 2 nights!!!
Till then Tight Lines and Good Times!!!!