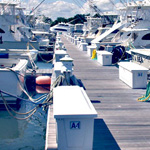 Fishing Report 9/4/2015
Written on: September 4th, 2015 in Fishing Report
This is the last big weekend of summer and fishing is still red hot at Indian River Marina. Many boats inshore are still are landing Flounder, Seabass and Croaker. While offshore there still are some Bigeye and Yellowfin Tuna, Wahoo and Gaffer Mahi to be found. Make sure you book yourself a charter today to take part in all this amazing fishing before the season ends!
Or stop by this weekend and enjoy a cool drink and a great sunset at Hammerheads Dockside!
Remember that next weekend Sept. 12, we will be hosting a Fisherman's Tailgate. Come see what all of our slipholders are selling and land yourself a great deal!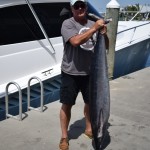 Jim Schaffer of Smyrna, DE caught this 64lb wahoo out at the 40 fathom line at the Baltimore Canyon.  He was fishing with Capt. JoJo Joachimowski of the Knot Again.  The group of guys that was on the boat also hooked up on 180lbs of mahi.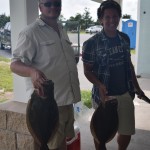 Capt. Roger Meekins of the Capt. Bob II took Barry and Kirson Wenger of Manheim, PA fishing out at the Old Grounds.  They came back in with a couple of nice keeper flounder weighing up to 4lbs and measuring 23″.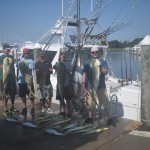 Kevin Fynes, Ryan O'Hara, Robert Werner, Bob Werner and Matt Marina took the Capt. Ike II out for an overnight run to the Washington Canyon and came back in with this 195lb big eye, 13 mahi and 3 yellowfin tuna.
Capt. Dave Collins and Capt. Brian Joseph reported that the big eye was caught trolling ballyhoo and the bite started around 8pm.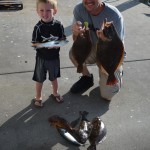 The Lester Family, Ayden, Brian and Adriana (not pictured) of Parkesburg, PA caught a nice batch of fish on the Judy V with Capt. Eddie Wheedleton.  They caught blue fish, a large sea robin and 4 flounder. The largest flounder weighed in at 4.7lbs and measured 24 inches and was caught using cut bait out at the Old Grounds.
Til next time Tight Lines and Good Times!
All photos courtesy of Hook'em and Cook'em.