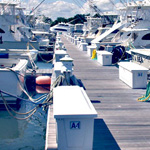 Fishing Report for 9/12/15
Written on: September 16th, 2015 in Fishing Report
Here at Indian River Marina the fishing is still red hot! Flounder are still being caught inshore and throughout the back bays, along with Seabass, and Croaker. Offshore Gaffer Mahi are still being landed, the Bigeye and Yellowfin bite has slowed.
Even though its after Labor Day things are still happening at Indian River Marina! There is always a good crowd in the afternoon at Hammerhead's Dockside where you can eat and relax while you listen to some great music.  We still have a lot of great fishing too, so book yourself a charter at 302-227-3071 and ask for Carolyn. She'll hook you with a trip of a lifetime!
We hope you took advantage off all the great fishing, and amazing events this season at Indian River Marina.
Until then Tight Lines and Good Times.