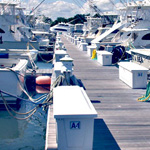 Fishing Report 9/19/15
Written on: September 19th, 2015 in Fishing Report
Great weather and great fishing continue at Indian River Marina. Come down and watch all the fish being weighed in daily!
Offshore reports great Yellowfin Tuna fishing seeing many landed over 80 lbs. Mahi and some scattered Big Eyes and White Marlin are still being landed. Inshore reports that Flounders have slowed a bit but still plenty of good fishing around.
Get booked on a full fishing trip today by calling 302-227-3071!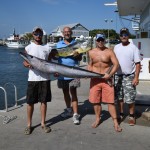 Ryan Murray, Douglas Iehle, angler Chris Hemmerich and Capt. Scott Murray fished out at the Washington Canyon and hooked up this 62lb wahoo using a skirted ballyhoo and caught a boat load of mahi with the largest one weighing in at 21lbs.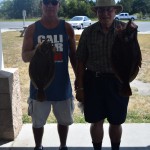 Dave Galdun of Albany, NY and Dave Butts of College Park, PA, caught these impressive flounder while fishing on the Judy V. with Capt. Eddie Wheedleton out at the Old Grounds using cut bait.  The largest fish weighed in at 6.2lbs and measured 25 3/4 inches in length.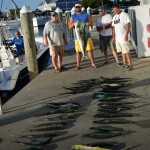 Tom Cornell, Matt Yost, Justin Strouse and Jason Woody all from Dover, DE had an awesome catch of mahi, with their largest weighing in at 28.6lbs, while fishing out at the Baltimore Canyon pitching baits on spinners.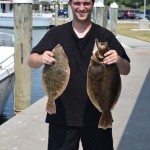 Dave Hopkins of Wilm., DE caught these 4.5lb and 2.3lb flounder fishing with cut bait out at the Old Grounds.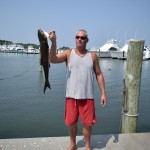 This 9lb cobia was caught fishing in the surf at 3 R's road using fresh bunker on a mullet rig by Kevin Mundy of Frankford, DE.
Until next time Tight Lines and Good Times!
Photos courtesy of Hook'em & Cook'em.