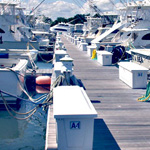 Fishing Report 3/23/16
Written on: March 23rd, 2016 in Fishing Report
Spring is finally here and everyone at the marina is getting ready for an amazing season ahead. Hopefully this warm weather will bring in some warmer water and we'll begin to see some fish.
PLEASE NOTE THAT the Fuel Dock is closed for upgrades to the fuel lines and will reopen in the middle of April. Diesel can still be purchased on G Dock at slip G-9.
The office and fuel dock are currently open 8 AM until 4 PM Monday through Saturday. The boat yard is operating 7 AM until 3 PM Monday through Friday.
Indian River Marina will be closed on March 25, 2016 for Good Friday.
Hammerhead's Dockside will be open Friday through Sunday in April, 11 AM to 8 PM. Stop by for a bite or a drink and enjoy this wonderful spring weather.
Be sure to mark your calendars for the 2nd Annual Kid's Catch-All Tournament June 24 through June 26, 2016. Anglers aged 3-18 take part in this fun event where no angler goes home empty handed. Or just come down to watch and cheer on all the kids at the weigh station showing off their catches. This event is fun for the whole family and proceeds benefit the Lyme's Disease Association of Delmarva, INC.
Til next time Tight Lines and Good Times!