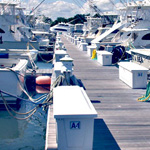 Archived Posts From: 2016
Written on: April 30th, 2016 in Fishing Report
What's up with the weather?
Someone please start doing a Tuna dance, please! A Flounder dance? A Bluefish dance?
We've been seeing a few Tog around though. We will keep you posted later this week.
Come on by to pick up a Kid's Catch All Tournament Registration form. It's going to be a great event and is June 24 through June 26.
Til next time Good Times and Tight Lines! HA.
Written on: April 23rd, 2016 in Fishing Report
WELCOME BACK!
We finally have gotten back online and apologize for the delay with our fishing reports.
Lets get started with Inshore. There have been reports of decent catches of Tog and Bluefish, also reporting scattered Flounder, Rockfish and even a couple Black Drum. Off shore reports some Bluefin and Yellowfin Tuna landed last week. Lets keep our fingers crossed for great fishing as the season revs up.
Be sure to schedule your Charter boat for this season. There are plenty of trips and vessels to choose from. Call the office at 302-227-3071.
Hammerheads is now open Friday, Saturday and Sunday. Come down for some good eats and a cold drink. Also make sure to stop by Hook'em & Cook'em for all your bait and tackle needs. Our Ship Store is also open  now Wednesday-Sunday.
It is not too early to mark your calendars for the 2nd Annual Kids Catch-All Fishing Tournament on June 24, 25, and 26 for youth 3 to 18 years old.  For more information on this great event that benefits the Lyme Disease Association of Delmarva, INC visit  http://www.destateparks.com/marinas/Catch-all-tournament-2016.asp . Be sure to take part in the great event! For more information in 302-227-3071.
Tight Lines and Good Times!