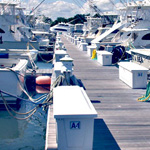 Archived Posts From: 2016
Written on: April 30th, 2016 in Fishing Report
What's up with the weather?
Someone please start doing a Tuna dance, please! A Flounder dance? A Bluefish dance?
We've been seeing a few Tog around though. We will keep you posted later this week.
Come on by to pick up a Kid's Catch All Tournament Registration form. It's going to be a great event and is June 24 through June 26.
Til next time Good Times and Tight Lines! HA.