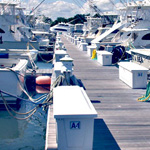 Fishing Report 5-13-17
Written on: May 13th, 2017 in Fishing Report
Fishing Report 5-13-17
The first half of this weekend was a washout!  Sunday looks to be a much better day, but the wind might keep the boats tied to the dock for yet another day.  Here are a few pics from this past week…yes, lots of tog and blue fish!!!
Til next time, tight lies and good times!!!
Photos courtesy of Hookem & Cookem Bait, Tackle and Seafood.