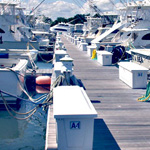 Fishing Report 5/14/17
Written on: May 14th, 2017 in Fishing Report
Fishing Report 5/14/17
Happy Mothers Day!!!
Todays report does not involve any boats. All of these Blues and Striper were caught from the beach or the inlet. These Blues are awesome catches on the beach.  Check out some of these pics from this past week.
Til next time, tight lines and good times!
Photos courtesy of Hookem & Cookem Bait, Tackle and Seafood.