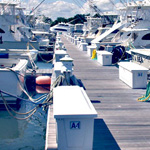 Fishing Report 5-24-17
Written on: May 24th, 2017 in Fishing Report
Fishing Report 5-24-17
The Black Sea Bass have been hitting hard. Check out these catches!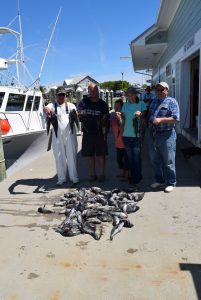 Capt Dave Collins of the Capt. Ike II took out his first trip of the season for black sea bass and came back to the dock with their limit in under 3 hours.   They were fishing using cut squid.
Capt. Brian Joseph, Dennis Grove, Crystal Baker, Kaytlin Grove, Dennis Grove Sr. all from Salisbury, MD, John Yoder and Chris Miller both from Dover, DE (not pictured).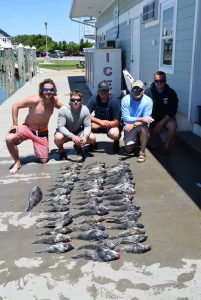 The crew from Coastal Crush fished the Reef using squid and clam they brought back some nice fish with the largest weighing in at 3.3lbs that was caught by Wyatt Richardson. Pictured are Evan Urgo, Logan Joesph, Wyatt Richardson, Capt Barry Joseph and Jason Besry all from Georgetown, DE.
Til next time, tight lines and good times!!!!
Photos courtesy Hookem & Cookem Bait – Tackle – Seafood.