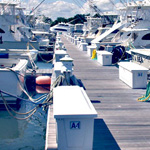 Fishing Report for 7/9/18
Written on: July 9th, 2018 in Fishing Report
It was an absolutely gorgeous weekend down here at the Inlet. The sun was shining, the breeze was blowing, and the fish were biting, especially the flounder!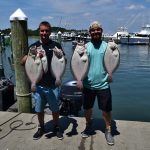 Brad Young and Chris Curlett of New Castle, DE caught these nice keeper flounder while fishing out at site 10 using squid and shiners on top and bottom rigs.  The largest fish was caught by Chris and weighed 3.8lbs and measured 21.5 inches.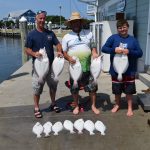 Kenny Evans, Mickey Payne and Jordan "J-Bird" Swithenbank all from Georgetown, DE  fished out at Site 10 and caught these flounder drifting minnows.  The largest flounder weighed 4.3lbs, caught by Jordan.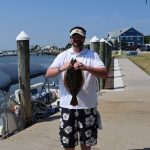 While fishing on Rigs Raft II, Kevin Rigsby of Germantown, MD caught this 20″ flounder using Gulp bait in the Indian River.
A trip out to the Baltimore Canyon was a successful trip for this group on the Capt. Ike II with a nice catch of mahi and yellow fin tuna caught while out at the Baltimore Canyon.
Caught while trolling ballyhoo.
Pictured are Joe and Jonathon Kspersky of Greenwood, DE and Josiah, Asa, Brandy and Mike Irwin from Delmar, MD.
The team from "Bail Out" fished out at the Baltimore Canyon and hooked up with a nice mix of yellow fin tuna, trigger fish, buoy jacks and mahi.  The largest mahi weighed 21.2lbs and was caught by Kyle Blevens of Bel Air, MD.
Also pictured Frank Geck, Ken Looney, Rob Lewis, Brad Lewis, Joey Blevins along with Kyle Blevins.
Photos courtesy of Hook 'em & Cook 'em
Our charter fleet gives you options for inshore, offshore, and bay fishing – give Carolyn a call at 302-227-3071 to book a trip now!
As always, Tight Lines and Good Times!