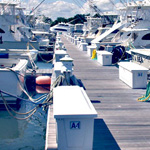 Archived Posts From: 2018
Written on: August 25th, 2018 in Fishing Report
While a bit too gusty to head out very far this week, the weather was beautiful in our corner of the eastern shore. Despite the wind, fish were still hitting the docks, with tuna looking like it's going to pick back up in the next couple weeks.
Good luck to any and all of our local Indian River boats fishing the MidAtlantic tournament this week. Show those boys across the bay a reel good time!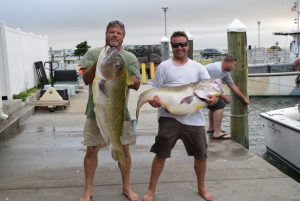 These golden tile fish were caught by Robby Marin and Adam Bauer of Edgemere, MD while fishing on the "Dark Star"  They caught these 45.6lb and 38lb golden tile fish while deep dropping at the Poor Man's Canyon on the 100 fathom line using whole squid.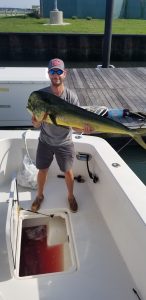 Kevin Elden of Baltimore, MD on the Reel Ledo.  29.2 lbs. Caught on a naked ballyhoo at the Baltimore Canyon.
Kyle Neibich of Boonsboro, MD, caught this 3.7lb and 22 inch flounder while fishing on the north jetty of the Indian River Inlet using minnow on a top and bottom rig.
These photos are all from the Capt. Bob II outing on Wednesday 8/22. Capt. Bob II and Judy V are the only two headboats at IRM, and both are operated by the wonderful folks at Hook 'em & Cook 'em.
Photos courtesy of Hook 'em & Cook 'em
There's still a little bit of time left to squeeze in that fishing trip before the summer fun comes to an end. Cool off next week by heading offshore on one of our charter boats. Just call Carolyn at 302-227-3071!
Until next time, tight lines and good times!
Written on: August 13th, 2018 in Fishing Report
The White Marlin ended last Friday with two of our slipholders, Fin-Nominal winning first place in the dolphin division with a 50 pounder and Canyon Hunter coming in third place with a 55 lb wahoo. Great job guys for representing IRM! Congratulations!
Inshore reports of flounder, cobia, croaker, and blue fish being landed. While offshore reports have been slow, we have still seen scattered tuna, dolphin, and marlin.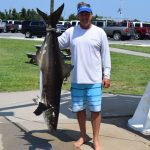 John Burbage III of Ocean View, DE caught this 79.4lb and 48 1/2 inch long cobia while fishing 2 miles off the cost of Bethany Beach, DE on Friday.  John said that he snagged some live bunker then cast into the school of bunker and retrieved the line in quickly to catch this monster of a fish.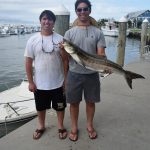 While fishing just outside the Indian River Inlet on the "Sunset", brothers David and Christian Ostrowski of Chadds Ford, PA caught this 19lb cobia using live bunker that they had snagged in the inlet earlier in the day.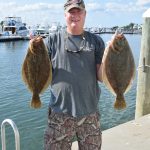 While fishing in the Indian River Bay by Burton's Island, Burt Campbell of Dagsboro, DE hooked into these two nice sized flounder using 3/4oz Mitchell's bucktails with 5″ white Gulp swimming mullet.  These fish weighed 3.8lbs and 5lbs and measured 23 1/2 inches.
Eric Van Dyke, Nick Van Dyke and Roger Clappe all from Wilmington, DE fishing on the Risk Reward out at Massey's Canyon chunking with butterfish and sardines and brought back their 3 blue fin tuna with the largest weighing 47 and 48lbs.
Photos courtesy of Hook 'em & Cook 'em.
Plenty of summer left to getout on the water, so get hooked at Indian River. Give Miss Carolyn a call at 302-227-3071 to book a charter trip for you and your family and friends.
Until next time, tight lines & good times!
Written on: August 9th, 2018 in Fishing Report
It's been an equally busy and beautiful week for the White Marlin Open so far! We're rooting for our Indian River teams Fin-nominal, currently holding first place for dolphin (50 lbs), and Canyon Hunter, currently in second for the wahoo (55 lbs). Reel in those trophies, guys!
Fish have been hitting the docks like crazy this week. Check it out!
This 54lb blue fin tuna was caught on the Work Release while chunking with butterfish out at Massey's Canyon.  Lucky angler Addison Browne of Dagsboro, DE reeled it in with the help of both Quinn Finnegan of Glenn Mills, PA and Clay Harrison of Boyertown, PA.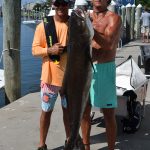 Pictured with his father Nick who caught two cobia last week, Cross Ferrara, of Middletown, DE caught this 59.5lb and 48 1/2 inch cobia while fishing from his jet ski out a 1/2 a mile in front of Bethany Beach, DE using eel.
Johnny Coffiey and Luke Horny of Hockessin, DE caught their limit of flounder while fishing out at the Old Grounds using jig heads and Gulp baits.  All fish measured from 17-22 inches in length.
Tom Traxler of State College, PA caught this 7.8lb King Mackerel while fishing out on the Razorback out of Indian River Marina with Capt. Roger Quigley.  They were trolling Clarkspoons along the beach in front of Fenwick Island, DE.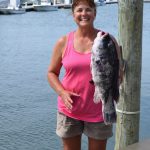 Denise Eddinger of Longneck, DE caught this 7.2lb and 23 1/2 inch long tautog while fishing out at the Del-Jersey Land Reef on the "Paul B.
Sands" with Capt. Randy Eddinger.  Denise reported that they also had 70lbs of large and medium black sea bass along with this citation fish that was caught using squid.
Photos courtesy of Hook 'em & Cook 'em.
Good luck to everyone fishing today and tomorrow, especially our Indian River Marina boys! Make sure you toss your lines out before the summer ends! Let one of our charters take you out for the day – call Carolyn at 302-227-3071.
Til next time, tight lines & good times.
Written on: August 4th, 2018 in Fishing Report
Wind, Wind go away.  We have had some boats heading out the last couple days.  Inshore Croaker, Kingfish  scattered Triggerfish and Bluefish have been landed.  Offshore Bluefin and Yellowfin tuna have hit our docks this week.   We hope to have some new pics uploaded soon.
We want to wish all of our Anglers here at IRM Good Luck in the WMO that begins Monday-Friday in Ocean City.  If you are in the area you can always come down to our docks and watch the fish being weigh-in at Hookem & Cookem while having a cool beverage at Hammerheads or maybe a bite to eat.
Give us a call and hooked up on your own private Charter at 302-227-3071 ask for Carolyn.
Till next time Tight Lines & Good Times from all of us here at IRM.