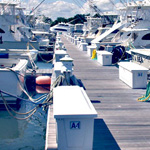 Archived Posts From: 2018
Written on: August 13th, 2018 in Fishing Report
The White Marlin ended last Friday with two of our slipholders, Fin-Nominal winning first place in the dolphin division with a 50 pounder and Canyon Hunter coming in third place with a 55 lb wahoo. Great job guys for representing IRM! Congratulations!
Inshore reports of flounder, cobia, croaker, and blue fish being landed. While offshore reports have been slow, we have still seen scattered tuna, dolphin, and marlin.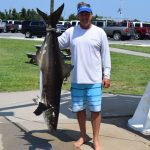 John Burbage III of Ocean View, DE caught this 79.4lb and 48 1/2 inch long cobia while fishing 2 miles off the cost of Bethany Beach, DE on Friday.  John said that he snagged some live bunker then cast into the school of bunker and retrieved the line in quickly to catch this monster of a fish.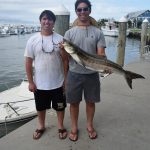 While fishing just outside the Indian River Inlet on the "Sunset", brothers David and Christian Ostrowski of Chadds Ford, PA caught this 19lb cobia using live bunker that they had snagged in the inlet earlier in the day.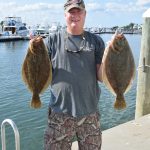 While fishing in the Indian River Bay by Burton's Island, Burt Campbell of Dagsboro, DE hooked into these two nice sized flounder using 3/4oz Mitchell's bucktails with 5″ white Gulp swimming mullet.  These fish weighed 3.8lbs and 5lbs and measured 23 1/2 inches.
Eric Van Dyke, Nick Van Dyke and Roger Clappe all from Wilmington, DE fishing on the Risk Reward out at Massey's Canyon chunking with butterfish and sardines and brought back their 3 blue fin tuna with the largest weighing 47 and 48lbs.
Photos courtesy of Hook 'em & Cook 'em.
Plenty of summer left to getout on the water, so get hooked at Indian River. Give Miss Carolyn a call at 302-227-3071 to book a charter trip for you and your family and friends.
Until next time, tight lines & good times!