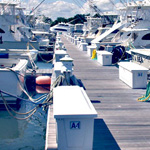 Archived Posts From: 2018
Written on: August 25th, 2018 in Fishing Report
While a bit too gusty to head out very far this week, the weather was beautiful in our corner of the eastern shore. Despite the wind, fish were still hitting the docks, with tuna looking like it's going to pick back up in the next couple weeks.
Good luck to any and all of our local Indian River boats fishing the MidAtlantic tournament this week. Show those boys across the bay a reel good time!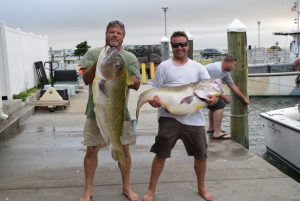 These golden tile fish were caught by Robby Marin and Adam Bauer of Edgemere, MD while fishing on the "Dark Star"  They caught these 45.6lb and 38lb golden tile fish while deep dropping at the Poor Man's Canyon on the 100 fathom line using whole squid.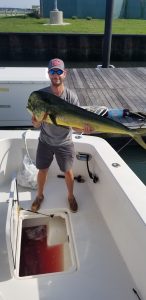 Kevin Elden of Baltimore, MD on the Reel Ledo.  29.2 lbs. Caught on a naked ballyhoo at the Baltimore Canyon.
Kyle Neibich of Boonsboro, MD, caught this 3.7lb and 22 inch flounder while fishing on the north jetty of the Indian River Inlet using minnow on a top and bottom rig.
These photos are all from the Capt. Bob II outing on Wednesday 8/22. Capt. Bob II and Judy V are the only two headboats at IRM, and both are operated by the wonderful folks at Hook 'em & Cook 'em.
Photos courtesy of Hook 'em & Cook 'em
There's still a little bit of time left to squeeze in that fishing trip before the summer fun comes to an end. Cool off next week by heading offshore on one of our charter boats. Just call Carolyn at 302-227-3071!
Until next time, tight lines and good times!