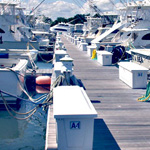 Archived Posts From: 2018
Written on: August 9th, 2018 in Fishing Report
It's been an equally busy and beautiful week for the White Marlin Open so far! We're rooting for our Indian River teams Fin-nominal, currently holding first place for dolphin (50 lbs), and Canyon Hunter, currently in second for the wahoo (55 lbs). Reel in those trophies, guys!
Fish have been hitting the docks like crazy this week. Check it out!
This 54lb blue fin tuna was caught on the Work Release while chunking with butterfish out at Massey's Canyon.  Lucky angler Addison Browne of Dagsboro, DE reeled it in with the help of both Quinn Finnegan of Glenn Mills, PA and Clay Harrison of Boyertown, PA.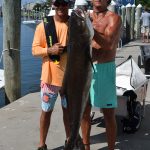 Pictured with his father Nick who caught two cobia last week, Cross Ferrara, of Middletown, DE caught this 59.5lb and 48 1/2 inch cobia while fishing from his jet ski out a 1/2 a mile in front of Bethany Beach, DE using eel.
Johnny Coffiey and Luke Horny of Hockessin, DE caught their limit of flounder while fishing out at the Old Grounds using jig heads and Gulp baits.  All fish measured from 17-22 inches in length.
Tom Traxler of State College, PA caught this 7.8lb King Mackerel while fishing out on the Razorback out of Indian River Marina with Capt. Roger Quigley.  They were trolling Clarkspoons along the beach in front of Fenwick Island, DE.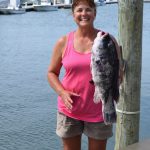 Denise Eddinger of Longneck, DE caught this 7.2lb and 23 1/2 inch long tautog while fishing out at the Del-Jersey Land Reef on the "Paul B.
Sands" with Capt. Randy Eddinger.  Denise reported that they also had 70lbs of large and medium black sea bass along with this citation fish that was caught using squid.
Photos courtesy of Hook 'em & Cook 'em.
Good luck to everyone fishing today and tomorrow, especially our Indian River Marina boys! Make sure you toss your lines out before the summer ends! Let one of our charters take you out for the day – call Carolyn at 302-227-3071.
Til next time, tight lines & good times.