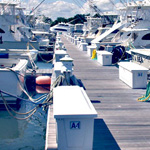 Fishing Report for 7/20/18
Written on: July 20th, 2018 in Fishing Report
Here it comes, everyone – some nasty weather. Inshore and Offshore reports have been steady. Here are some great pictures and reports of the fish that hit our docks this week.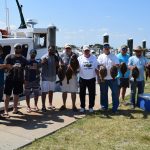 The full day trip on the Capt. Bob II found a patch of flounder that decided to bite on Saturday's trip.  Capt. Roger Meekins reported that the bite was slow for most of the morning but when the tide changed in the early afternoon the fishing turned to catching.  The trip wound up with 34 keeper flounder and 16 keeper sea bass.
Pictured are the Ventura Family, Jeff Windsor, Dutch Workman, Josh Yarber, Craig Jenkins, Bob Gunkel and Sam and Connie Groff.
These 23lb and 16lb cobia were caught by Nick Ferrara of Middletown, DE using eels out in front of Bethany Beach Delaware
The "Booby Trap" crew Mo Hussin of Middletown, DE, Shawn Rodger of Dewey Beach, DE and Nino Mallari of Bear, DE fished out at Massey's using Joe Shute lures on spreader bars and caught a 96lb blue fin tuna, a 66lb wahoo and two yellow fin weighing in at 50lbs and 23lbs.
Mike Smith of Rehoboth Beach, DE was out done by his buddy Ben Cataldi of Felton, DE when he caught this 6.7lb flounder using Gulp bait on a red jig head at the Old Grounds.
While fishing in the Washington Canyon Nolan Frazer of Dewey Beach, DE fished on the Sea Lazer and brought the first wahoo in at Indian River. They were fishing in the Washington Canyon with spreader bars.
Pictured are Steven Geis of West Fenwick, DE, Dan Barduik of Baltimore, MD, Nolan Frazer of Dewey Beach, DE and Capt. Mike Fitzgerald of Annapolis, MD.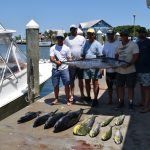 This 63.5lb wahoo was caught by Jacob Webb of Lewes, DE and a 23.1lb mahi was reeled in by Brian Perry of Wilm., DE while fishing out at the Washington Canyon on the "Line One" using a Joe Shute lure on a spreader bar.
Pictured are Jerry Perry, Brian Perry and Corey Falgowski of Wilm., DE, Barratt Cullen of Rehoboth Beach, DE, Fiore Celano of Newport, DE and Jacob Webb of Lewes, DE.
Photos courtesy of Hook 'em & Cook 'em.
Have a safe weekend everyone, and we'll see you after the storms.
Wishing y'all tight lines and good times!