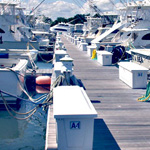 Archived Posts From: 2019
Written on: April 19th, 2019 in Fishing Report
Good Friday? More like Great Friday! The weather is windy but warm, and it's all uphill from here.
Tautog are still minimal from the inlet and inshore. They're making room for flounder – no reports yet but they're coming any day now.
Heard rumors of a couple bluefish being pulled out of the inlet as well as one or two keeper rockfish (and plenty of shorties).
Water temperature is hovering around 50 degrees, so get ready for tuna season.
Big news this week as we are officially OPEN for the season! Our Ship Store is open Weds-Sat, and today is the first day for Hammerheads Dockside's season!
PS – Don't forget to get the Kids Catch All Tournament on your calendar for June 21-23, 2019. Two nights of dinner, raffles, and family fun. No angler goes home empty-handed! Check it out at kidscatchall.com