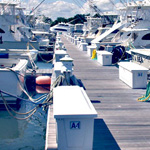 Archived Posts From: 2019
Written on: May 31st, 2019 in Events, Fishing Report, News
Hope everyone enjoyed their Memorial Day weekend! We were due for a nice weekend, and we sure got it.
INSHORE
Reports of sea bass popping up more and more coming in from the surf. Fishermen consistently hitting their limits all week.
Blues have slowed down a little, with reports dropping off but still scattered.
Some ling and a couple flounder came in with the blues as well.
OFFSHORE
It was an okay week for tuna, but we're still early in the season. Most bluesfin – haven't heard of any more yellowfin, but that's not to say they're not out there.
A couple of thresher sharks brought in the past couple weeks. Heard there were a few mako as well.
Mahi also hitting the decks intermittently.
By now, everyone should know about our annual Kids Catch All youth fishing tournament on June 21-23 – we still have sponsorships opportunities available, so if you are interested in
Written on: May 26th, 2019 in Fishing Report
Today's the day, folks. Hot, humid, sunny, and a holiday! This weekend marks the official-unofficial first rush of the busy season for Delaware State Parks (and many other places I'm sure). We hope everyone has a fun, safe holiday weekend!
Inshore
Tons of bluefish reports still coming up out of the jetty and from the beaches, especially between Bethany and Lewes. Some sea bass also reported, as well as scattered trout and small rockfish.
Offshore
Offshore fishing is starting to get fun again with tuna reports popping up. First yellowfin were caught this weekend out of Ocean City and the Baltimore and plenty of dolphin. Limits of bluefin hitting the docks with tons of releases reported as well. Rumor has it that they're even hooking some nice looking makos.
All that being said, IT'S FISHING SEASON!! Headboats are going on daily trips, call Hook 'em & Cook 'em for more info. Charter slots are filling up quickly so get your trip booked early with Miss Carolyn at 302-227-3071.
Also our EVENTS this year are:
June 21-23        Kids Catch All
September 7     Fishermen's Flea Market
September 14   Autumn Art Fest
As always, wishing everybody tight lines and good times!!
Written on: May 24th, 2019 in Fishing Report
Seems like it's holiday after holiday this time of year… Happy Memorial Day to everyone – be sure to take some time to remember and honor those who lost their lives in service to our country.
If you are in the right place at the right time, you're gonna get some bluefish. Seems that the "right time" is right on the edge of high tide. The "right place" is really anywhere between the South Inlet and the CHSP fishing pier. Bring some chunks of fresh mullet, and you'll be sure to reel some in.
Rockfish are making some appearances at the Inlet and the nearby coastline, but nothing too exciting in our area. There was a report that someone caught and released a 42in rock at the CHSP pier – pretty exciting, but not our area.
Reports of trout, namely a 4lb one, caught off the jetty at the inlet. I believe that's currently on IRM's leaderboard.
Last Saturday, Reel Precision brought in this season's first bluefin tuna weighing in at 45lbs. Tom Healy just brought in a 77.5lb bluefin this past Wednesday. Plenty more where that came from!
Father's Day is coming up, and what better gift than an offshore tuna fishing trip on a beautiful summer day??? I really can't think of any. Call Miss Carolyn to hook you up with a charter captain. Also, our 2019 Charter Fleet shirts have hit the ship store, and they're cooler than ever. Check them out and see the other new stuff we got!!
Final PSA – if you're new here, check out our Kids Catch All information at kidscatchall.com . This is an awesome youth (ages 3-18) fishing tournament with 14 beautiful trophies to win, two great nights of dinner and raffles, and a free t-shirt for every entrant. Registration is June 21 from 6-
Written on: May 17th, 2019 in Fishing Report
Coming to you live on this absolutely gorgeous Friday afternoon, looking like summer is going to be here right in time for Memorial Day weekend! The forecast is looking go so far for next weekend – sunny, warm, but very windy.
Bluefish are coming out of the woodwork along the shoreline from the Inlet up to the CHSP fishing pier. Catch them as the last of the high tide comes through on cut mullet or metal lures.
Keeper rockfish hauled in on the south side Inlet, but their appearance on the surf and in the Bay has been "rocky"… Hope y'all appreciated that fish pun.
Sea bass season started 5/15 and every boat that went out hit its limit so far.
Good news! Everyone's favorite Miss Carolyn is back for her 15th season at IRM, and she is  getting back into the swing of things. The weather is looking great, so help her get some practice in by calling 302-227-3071 to book your charter fishing trip for next weekend!
Written on: May 10th, 2019 in Fishing Report
Happy Mother's Day weekend to all of life's mothers and mother figures!
Bluefish are poking out more and more. Big blues over 10 lbs being reeled in at the Cape Henlopen fishing pier, the South Side surf at Delaware Seashore, and the jetty at the IR inlet. Heard that the bigger ones are caught on spoons and plugs OR frozen mullet chunks
As the blues roll in, the tog fade out. Haven't heard of any boats hitting their limits lately, and what they do get is mostly shorts with a few keepers.
No word on how flounder were this week, so that usually means there were none.
Black sea bass season starts May 15!!
And don't forget – Kids Catch All is June 21-23. Be there!!
Written on: May 3rd, 2019 in Events, Fishing Report, News
Hope everyone was able to get out and enjoy the summer tease this week. It's looking nice tomorrow morning, but then it's a full two weeks of rain.
We're done with tog now, just about. People are still fishing for them, but it's few and far between at this point.
The Inlet was kicking this week, with some anglers reporting limits of bluefish. Sounds pretty good to me! The anglers with limits reported they were using minnows.
Keeper flounder have been peppering the beaches, with reports coming from CHSP fishing pier, Massey's, the canal, with more reports coming offshore.
The beaches are coming up with blues, short rock (few keepers), black drum, and blowfish.
If you want to keep up with the fishing community both locally or all over the nation, download the new social fishing app Great Anglers from your app store, for iPhone and Android. The app is free, and it allows you to see what's being caught and where, either near you or anywhere, which I love because you can see all the gorgeous tropical fish being caught down in the Gulf. The app was co-created by the owner of Hook 'em& Cook 'em, and you can follow them at hook-em&cook-em on Great Anglers.
Hammerheads is OPEN 7 days a week so come snag a snack, a meal, a drink, or all 3. They will be CLOSED next Friday May 10.
And of course, I'm going to plug the Kids Catch All until it's over.  June 21-23. Be there!!