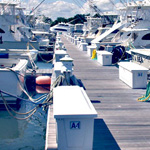 Archived Posts From: 2019
Written on: May 31st, 2019 in Events, Fishing Report, News
Hope everyone enjoyed their Memorial Day weekend! We were due for a nice weekend, and we sure got it.
INSHORE
Reports of sea bass popping up more and more coming in from the surf. Fishermen consistently hitting their limits all week.
Blues have slowed down a little, with reports dropping off but still scattered.
Some ling and a couple flounder came in with the blues as well.
OFFSHORE
It was an okay week for tuna, but we're still early in the season. Most bluesfin – haven't heard of any more yellowfin, but that's not to say they're not out there.
A couple of thresher sharks brought in the past couple weeks. Heard there were a few mako as well.
Mahi also hitting the decks intermittently.
By now, everyone should know about our annual Kids Catch All youth fishing tournament on June 21-23 – we still have sponsorships opportunities available, so if you are interested in