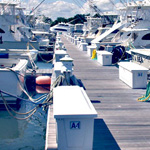 Archived Posts From: 2019
Written on: May 17th, 2019 in Fishing Report
Coming to you live on this absolutely gorgeous Friday afternoon, looking like summer is going to be here right in time for Memorial Day weekend! The forecast is looking go so far for next weekend – sunny, warm, but very windy.
Bluefish are coming out of the woodwork along the shoreline from the Inlet up to the CHSP fishing pier. Catch them as the last of the high tide comes through on cut mullet or metal lures.
Keeper rockfish hauled in on the south side Inlet, but their appearance on the surf and in the Bay has been "rocky"… Hope y'all appreciated that fish pun.
Sea bass season started 5/15 and every boat that went out hit its limit so far.
Good news! Everyone's favorite Miss Carolyn is back for her 15th season at IRM, and she is  getting back into the swing of things. The weather is looking great, so help her get some practice in by calling 302-227-3071 to book your charter fishing trip for next weekend!