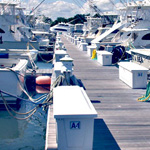 Archived Posts From: 2019
Written on: June 30th, 2019 in Fishing Report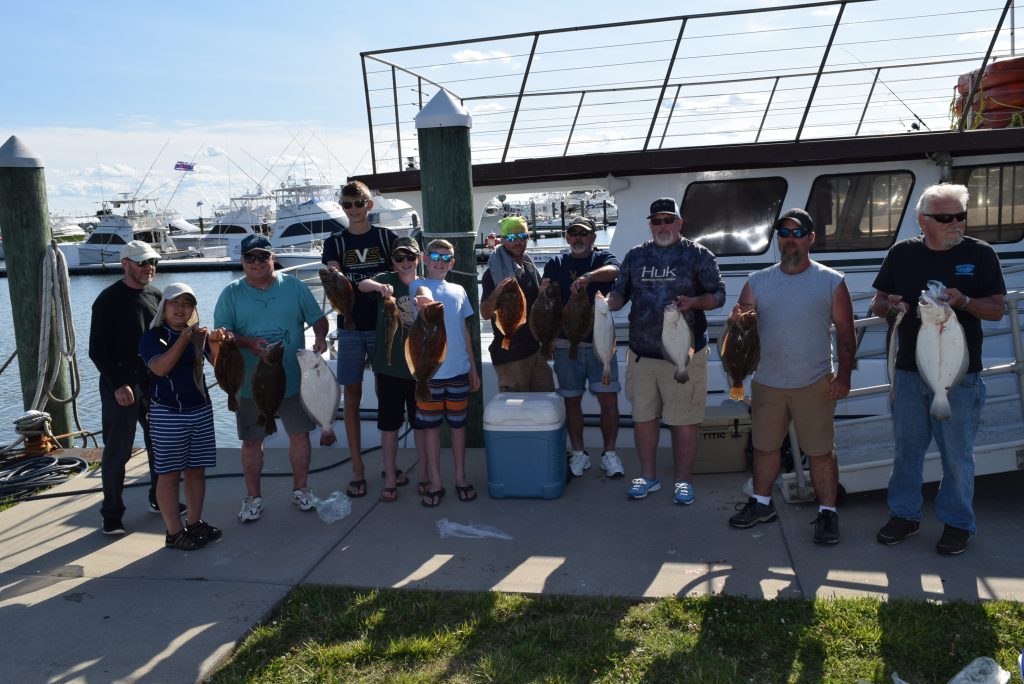 Well, we asked for it – summer is here and the sun is shining down. It's a little breezier about 15 miles out, so hop on your boat, a friend's, or one from our charter fleet to escape the heat! Call Miss Carolyn at 302-227-3071 to hook you up!
OFFSHORE
Tuna, tuna, tuna! While the bite is a little slower compared to last week's epic frenzy, yellowfin continue to hit the deck in decent numbers. Most brought in to IRM have been 50lb or over.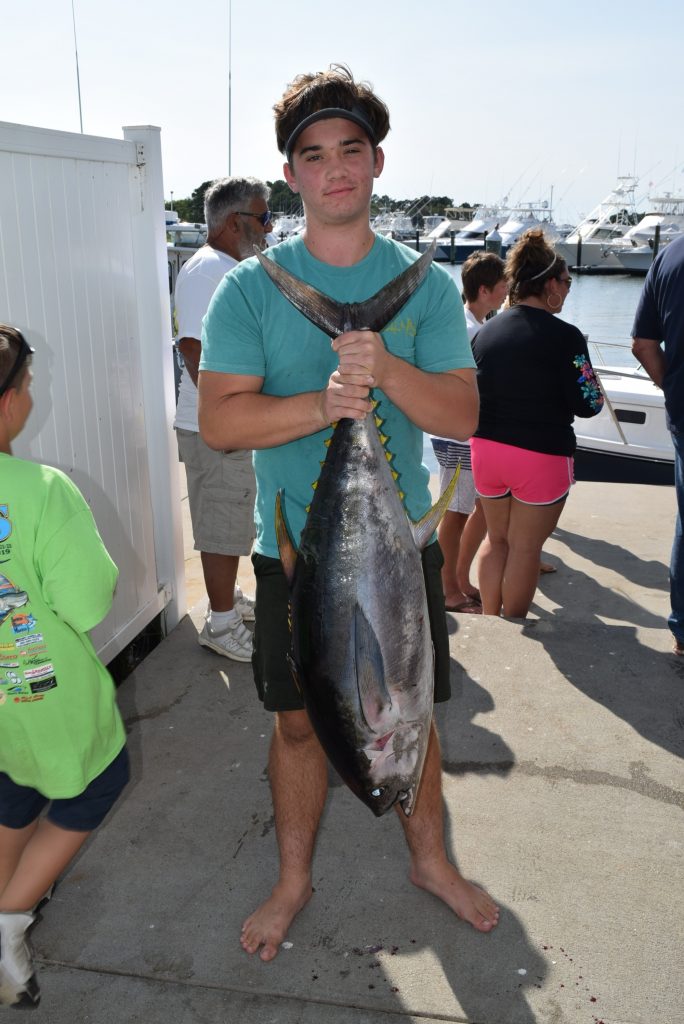 Anglers hooking bigger blues as the summer rolls through. Mr. Fisher (apt name) snagged this near 16lb blue out at the Hot Dog.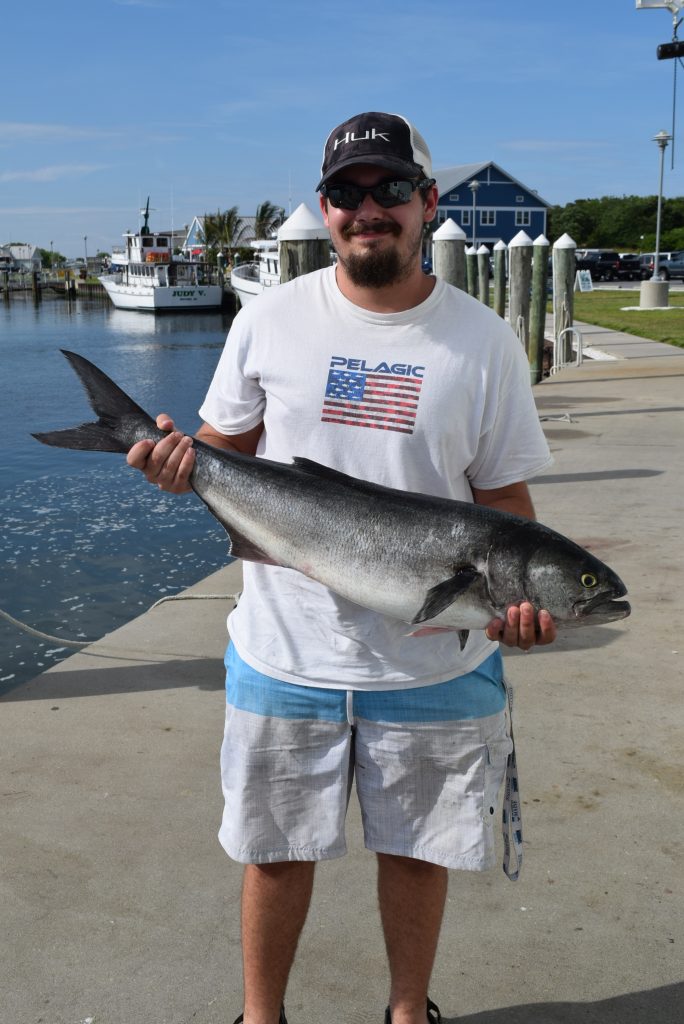 INSHORE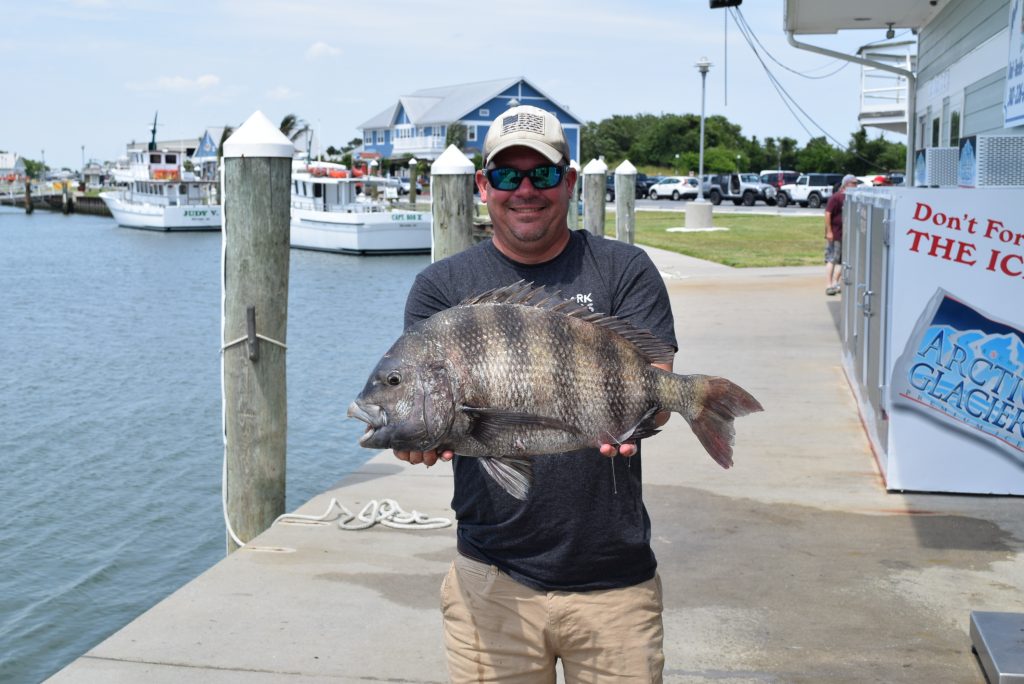 Inshore anglers are still coming home with a mixed bag. Sheepshead, bluefish, kingfish, and now mackerel are a consistent catch. Pompano, spot, ling, flounder, and late-night rockfish are will grab a lucky angler's line here and there.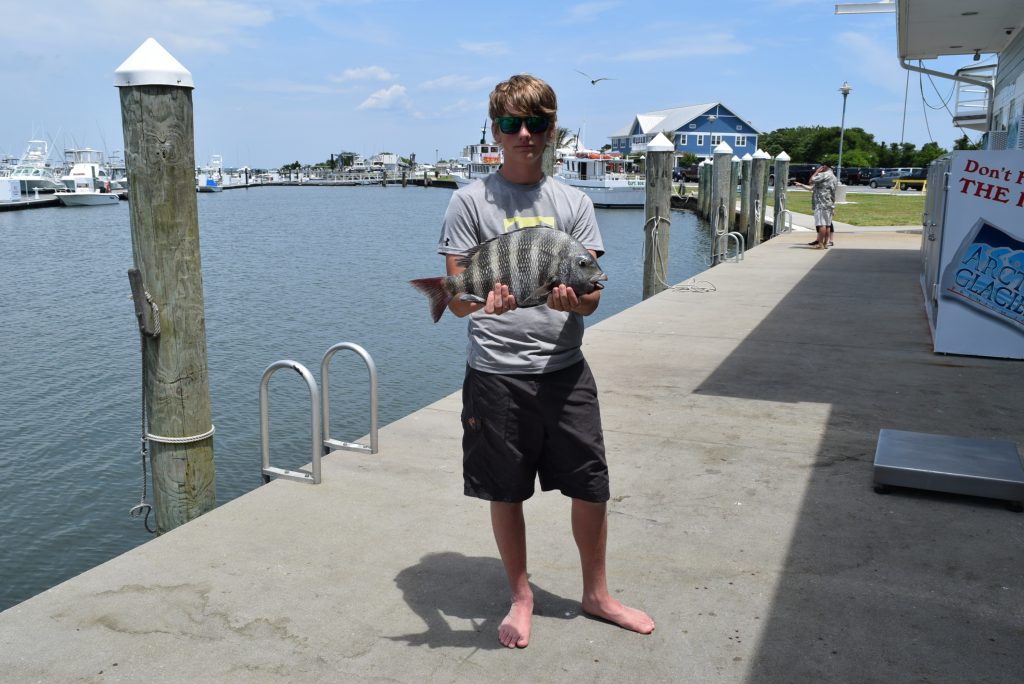 Once again, thank you to everyone who participated in the 5th Annual Kids Catch All event. Click here to see the wrap-up video done by Unscene Productions!
Signing off, and wishing everybody tight lines and good times this week!
Tags:
fishing
,
report
Written on: June 29th, 2019 in Fishing Report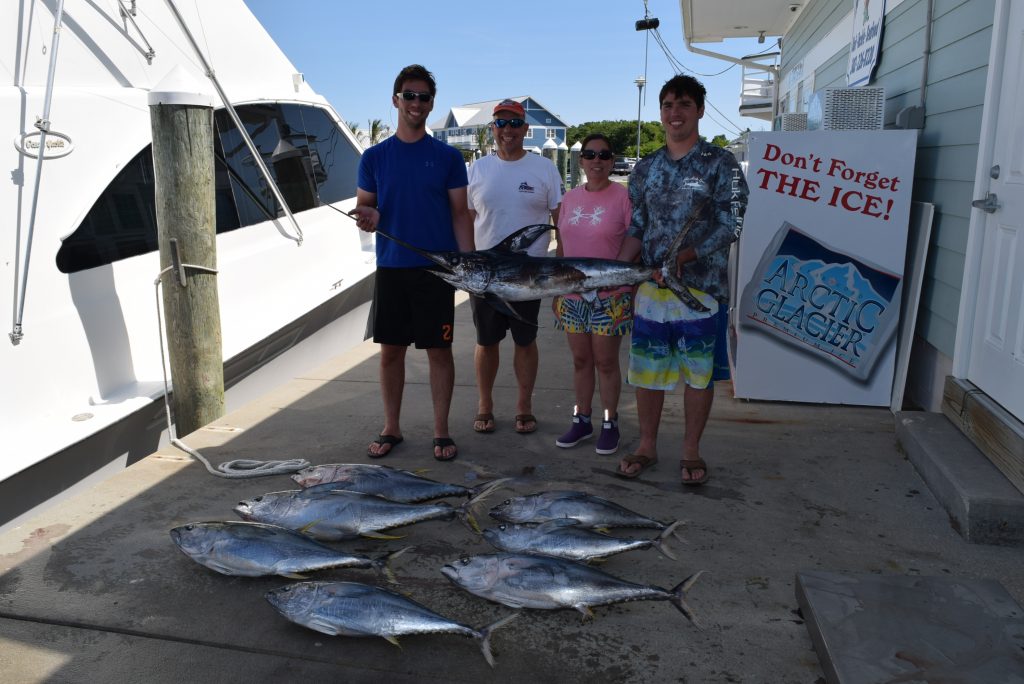 Fishing is still red hot as we head into the weekend before Independence Day. Whether you're celebrating this weekend or next, be sure to wear sunscreen and drink plenty of water. Looks like we're in for a sunny couple of weeks!
OFFSHORE
The tuna bite is consistent, with anglers landing mostly yellowfin, but bigeye and bluefin are in the mix. The canyons remain the hotspot for fishing activity, with record numbers of boats heading out every day.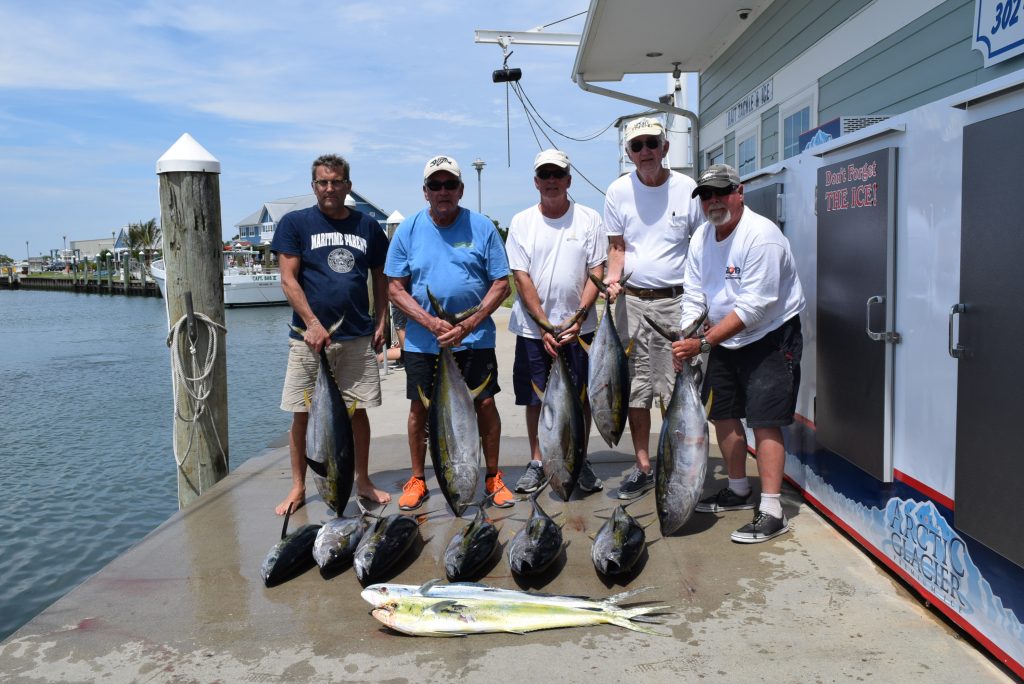 One lucky angler might have scored the Delaware state record for false albacore on the Last $ with Capt. Rodney Meyers, one of IRM's charter fleet! This is unconfirmed as of now, but we will update once we get more information.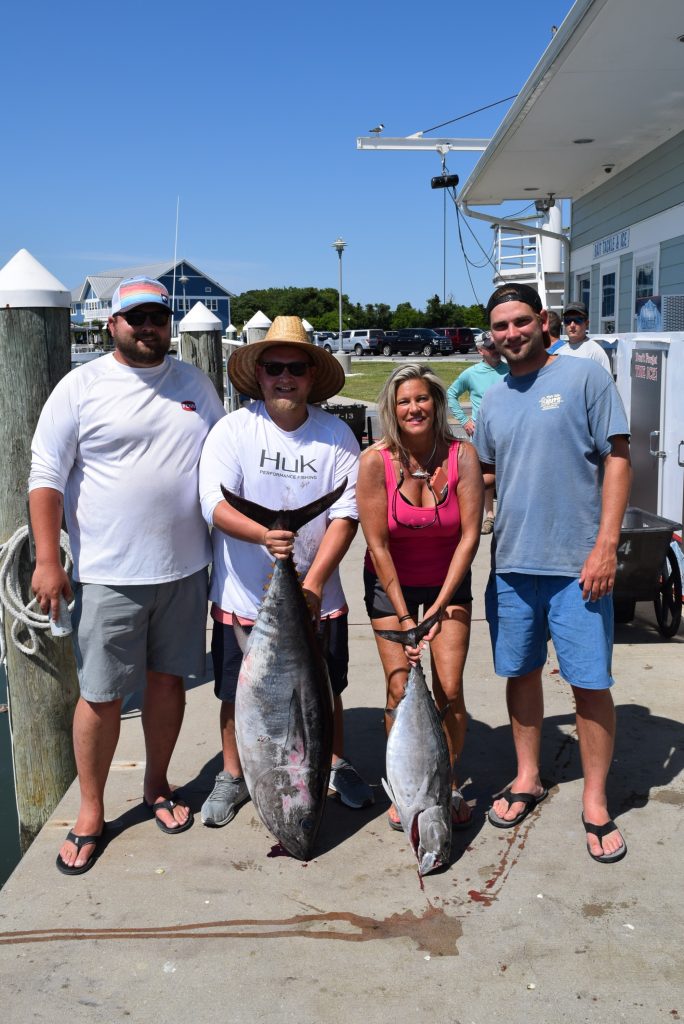 Heavy flounder have been hitting the deck consistently, as have mahi.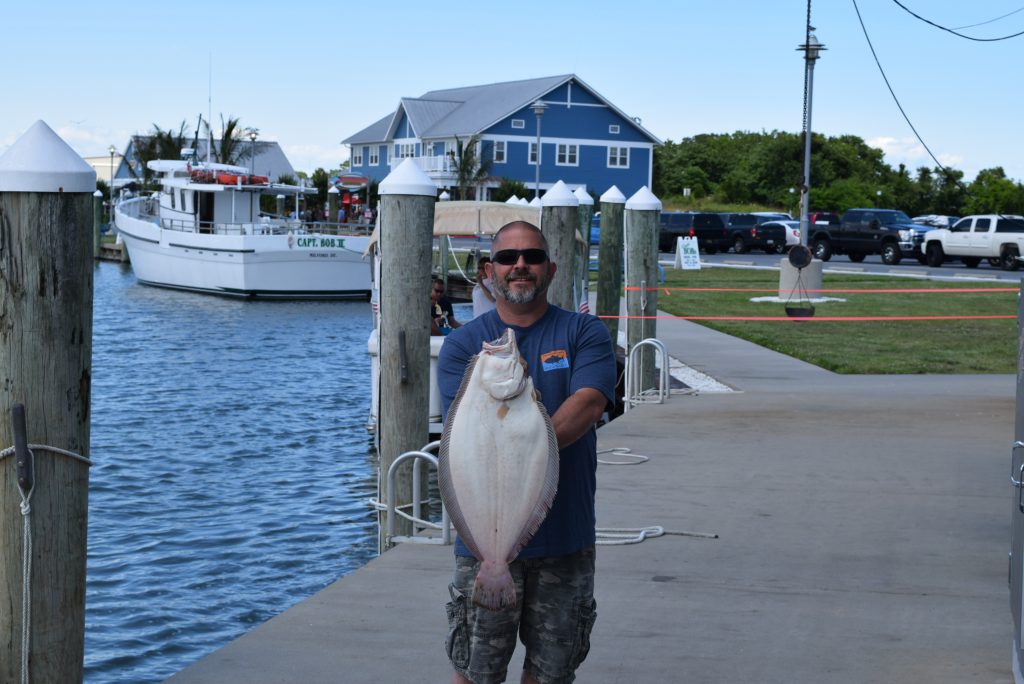 INSHORE
As the water temperature rises, we're seeing more species reeled in along the surf and inshore.
Sheepshead, croaker, triggerfish, trout, and spot made up the "mixed-bag" catches that anglers have reported.
Fishermen seeing more consistent bites with kings, sea bass, flounder, and blues. Rockfish are good at the inlet after dark.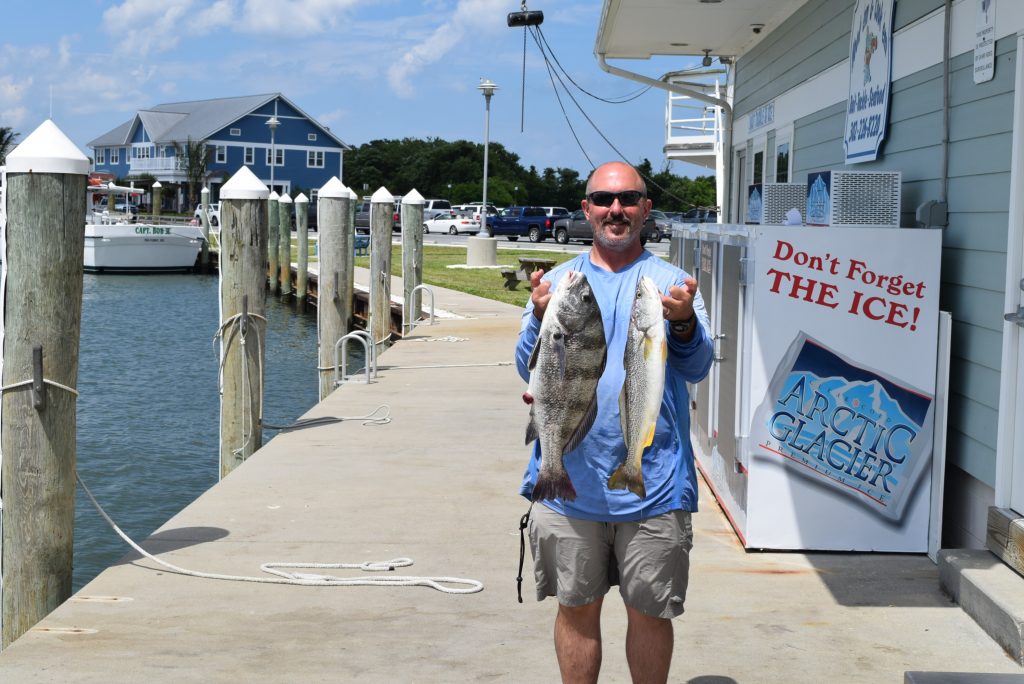 Don't wait – take advantage of the good fishing and good weather before it goes away! Call Miss Carolyn at 302-227-3071 to book your charter trip with one of our 26 charter fleet vessels. Trips are booking FAST so call ahead.
As always, wishing everybody tight lines and good times!
Written on: June 25th, 2019 in Fishing Report
It's a humid day down here at the marina. It seems most boaters went home after this weekend's mayhem.
OFFSHORE
Yellowfin bite is still hot, and offshore anglers are hauling in plenty of flounder too.
INSHORE
Reports of surf-fishermen reeling up pompanos in good numbers this weekend. Croaker, blues, kings, spot, and small trout also in the mix.
Wishing y'all tight lines and good times!
Written on: June 24th, 2019 in Fishing Report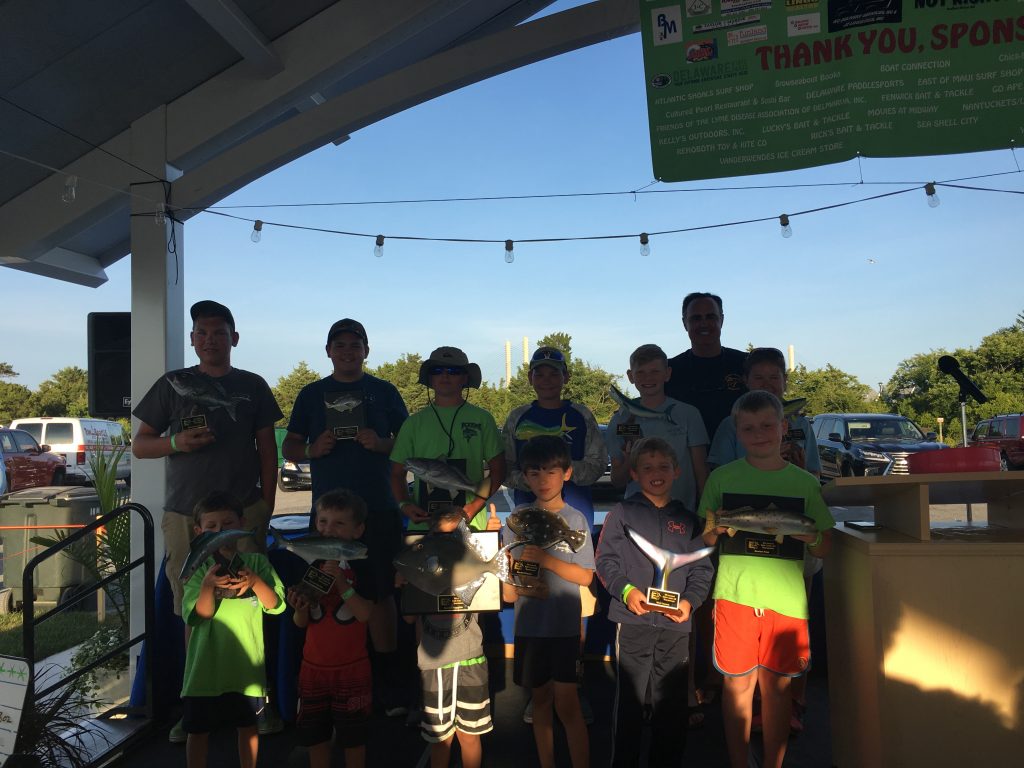 Wow, what an amazing weekend! Thank you to everyone who showed up to support this event and the Lyme Disease Association of Delmarva (LDAD). We had 107 young anglers enter, and 12 went home with trophies. This event raised almost $15,000 dollars for LDAD to further spread the education of the Delmarva community about tick-borne diseases, an increasingly important cause.
Special thanks to Senator Ernie Lopez for taking time from his busy schedule to come down and present the awards and to speak further about the Lyme disease epidemic.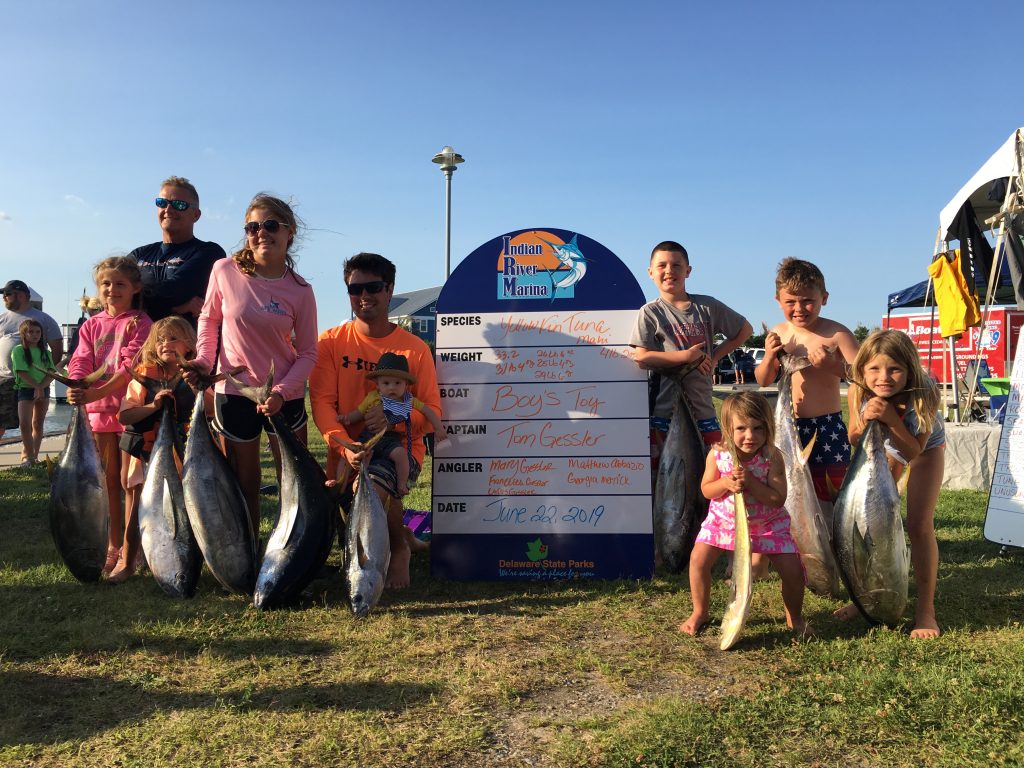 Our DIVISION WINNERS:
Bluefish – 1 lb 13 oz, Giovanni Baiocco
Croaker – 5 oz, Gavin German
Flounder – 4 lb 4 oz, Juliana Freeman
Mackerel – 1 lb 11.5 oz, Fisher Low
Mahi – 10 lb 8 oz, Levi Wingert
Sea Bass – 1 lb 5 oz, Briar Wingert
Shark – 470.2 lb, Thomas & Tanner Haugh
Spot – 5 oz, Matt Santoro
Triggerfish – 2 lb 12 oz, Nicky Niebauer
Trout – 1 lb 8 oz, Zane Winkler
Tuna – 39 lb 8 oz, Isabella Abbonizio
Unusual Catch – Look Down fish, Zachary Montague
All division winners were determined by weight except for the "Unusual Catch" division, which was left up to the Weighmaster to decide.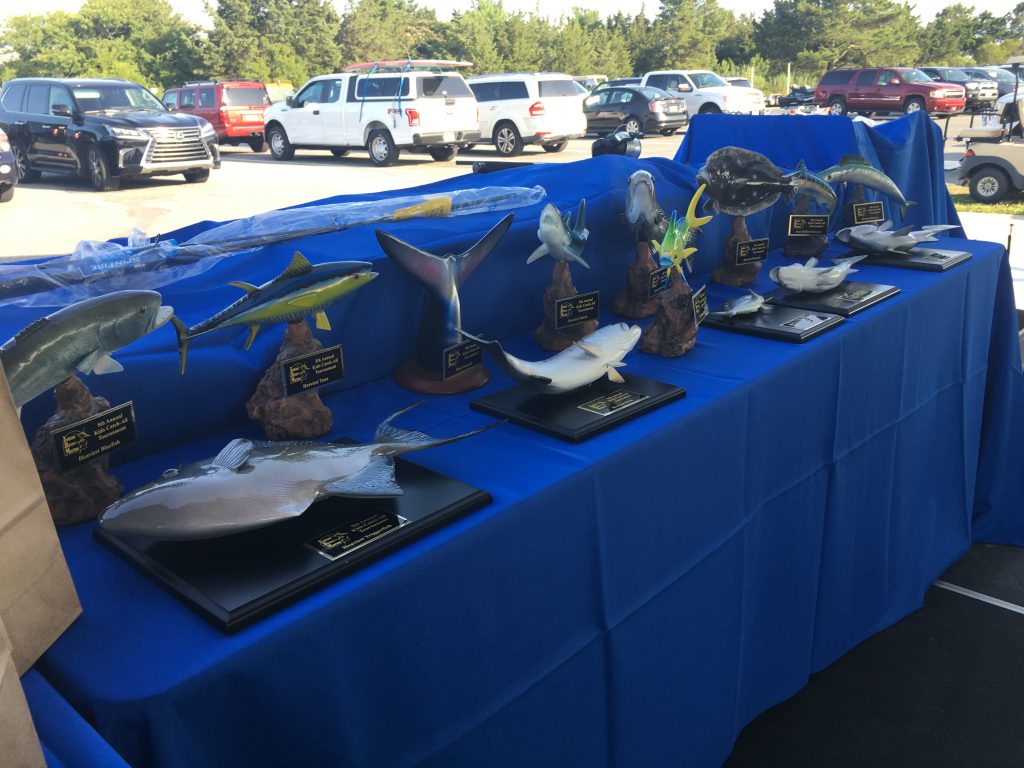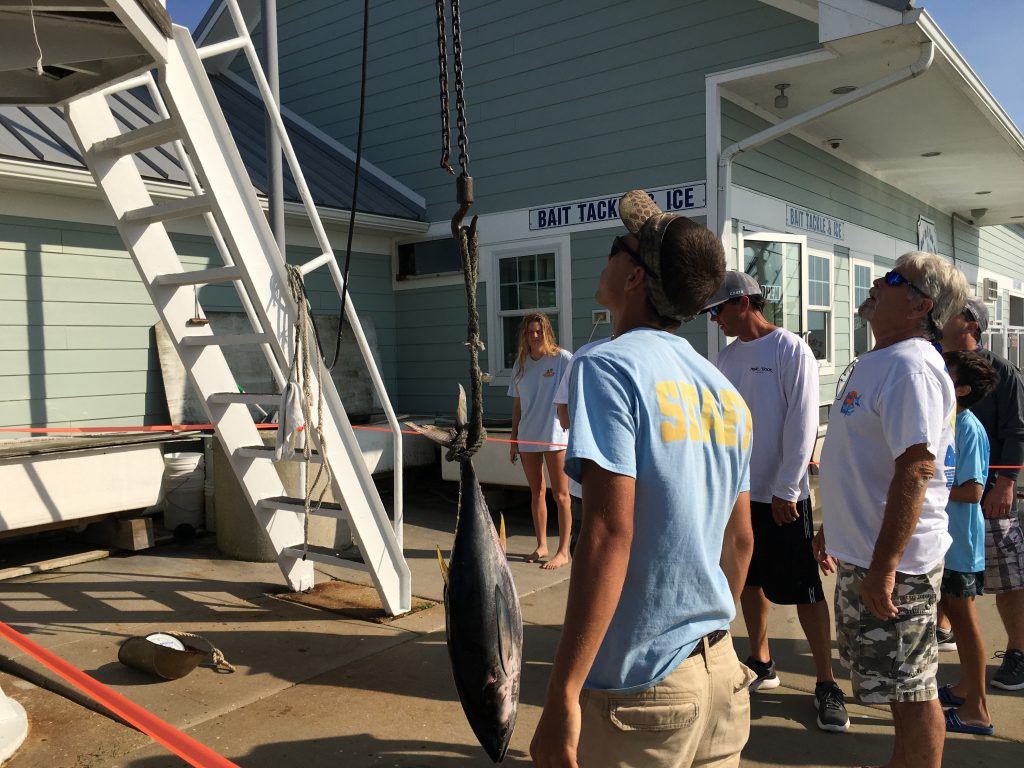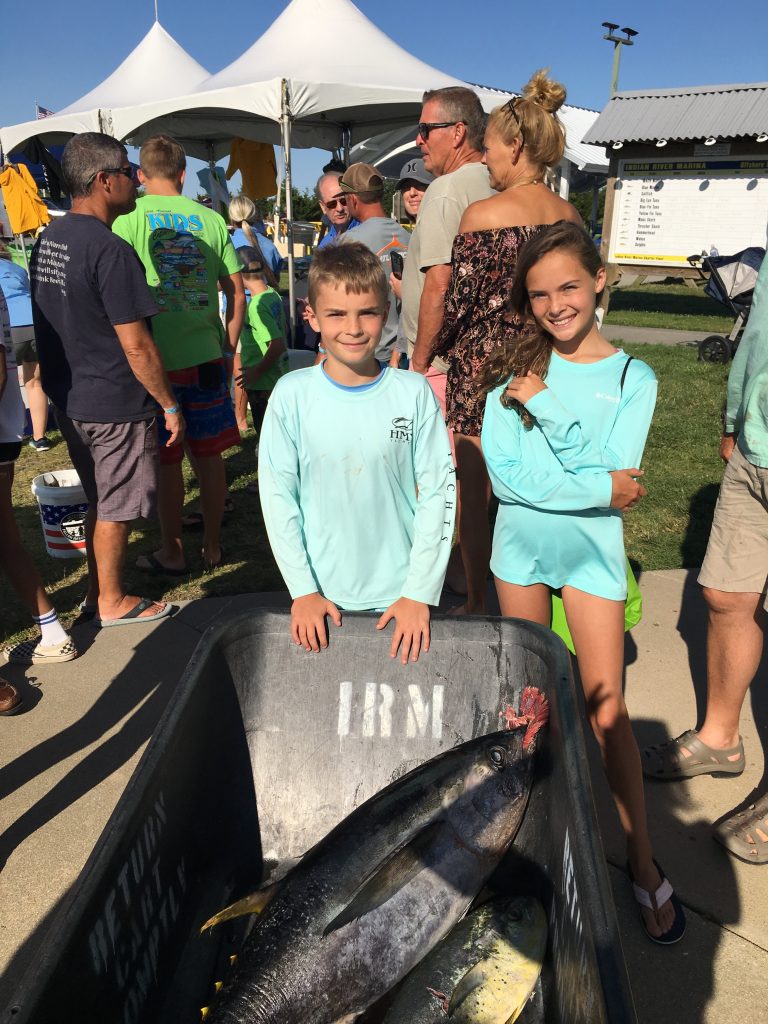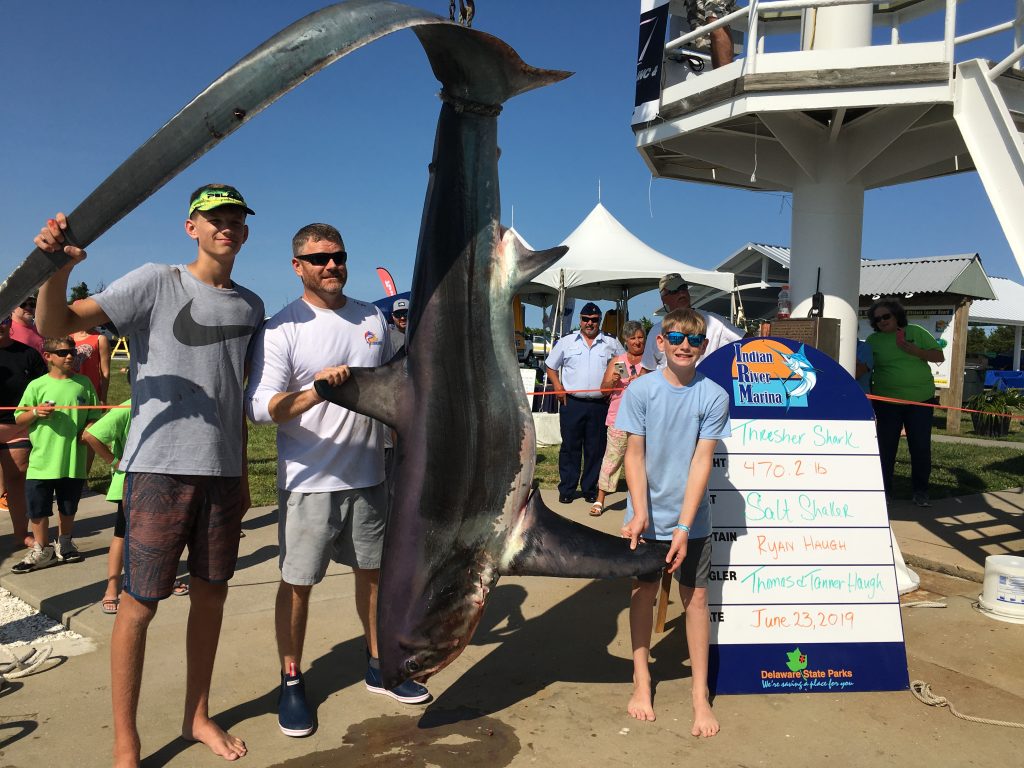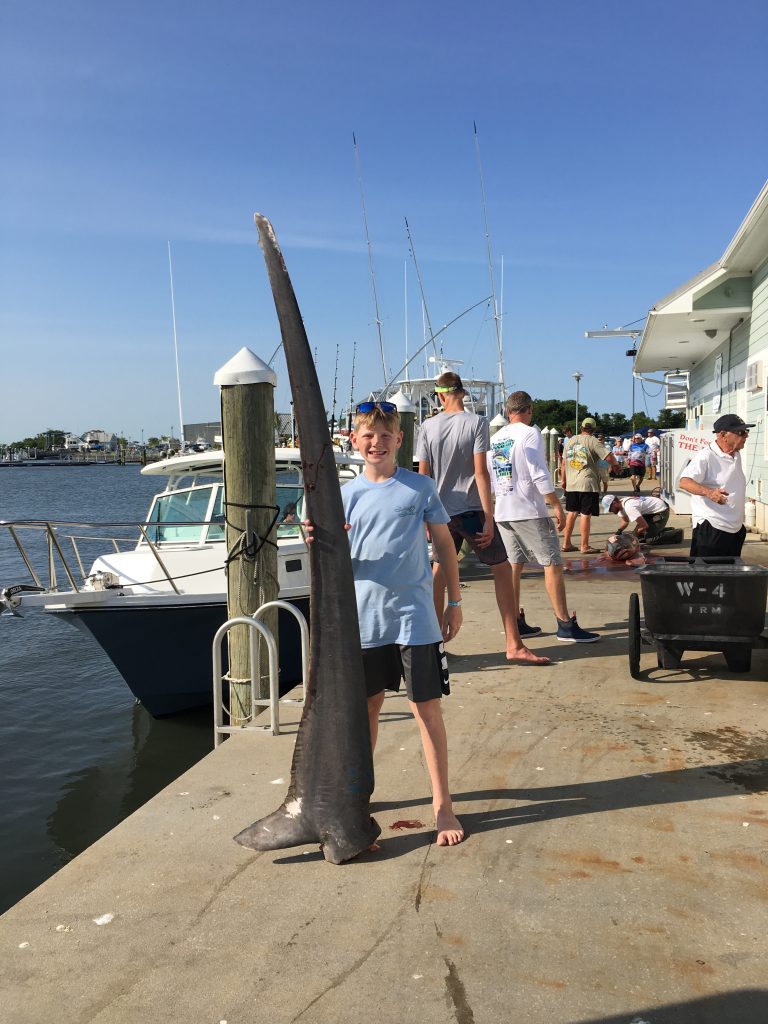 The rest of the pictures will be posted on the Kids Catch All website soon.
Of course, thank you to all of our sponsors, whose generous donations of money and raffle items made this tournament happen.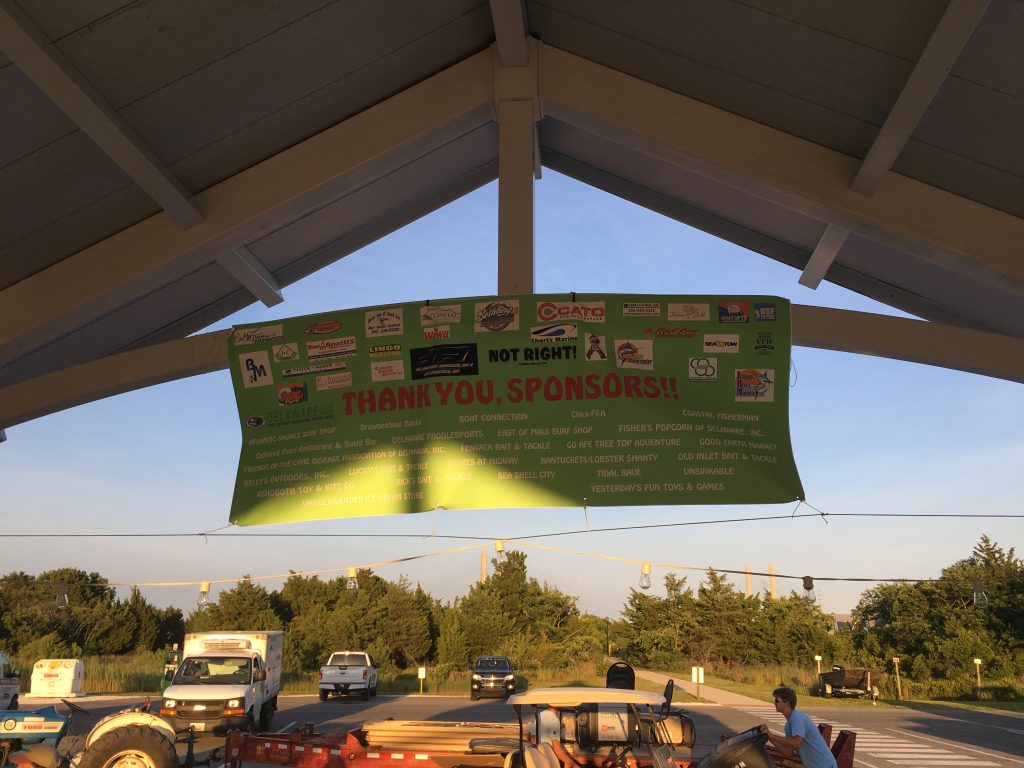 Thank you again to everyone who came out for the tournament, especially to the parents, uncles/aunts, grandparents, guardians of the kids who fished this event. We hope everyone enjoyed it as much as we did.
As always, wishing everyone tight lines and good times!
Written on: June 21st, 2019 in Fishing Report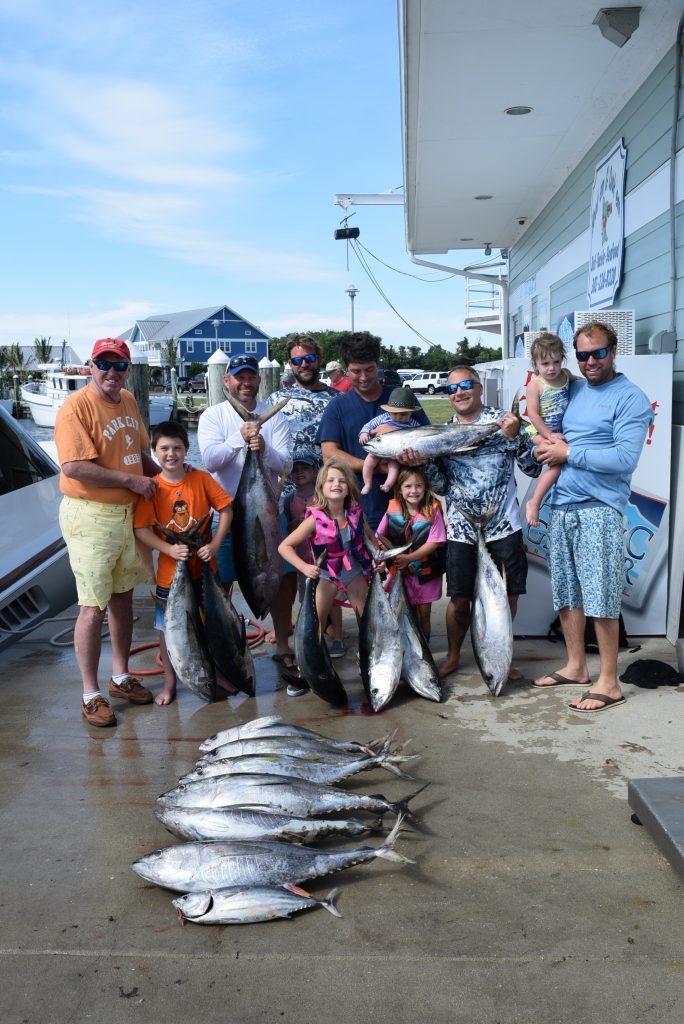 Fishing is HOT, and just in time for the Kids Catch All tournament! We have 15 divisions, and there have been reports of catches from EVERY division so far! Bluefish, croaker, flounder, mackerel, mahi, rockfish, sea bass, shark, spot, triggerfish, trout, tuna, billfish release, shark release, and unusual catch. There's still time to sign up online by 8:00pm or onsite tonight or tomorrow morning! Click here to register or find out more.
OFFSHORE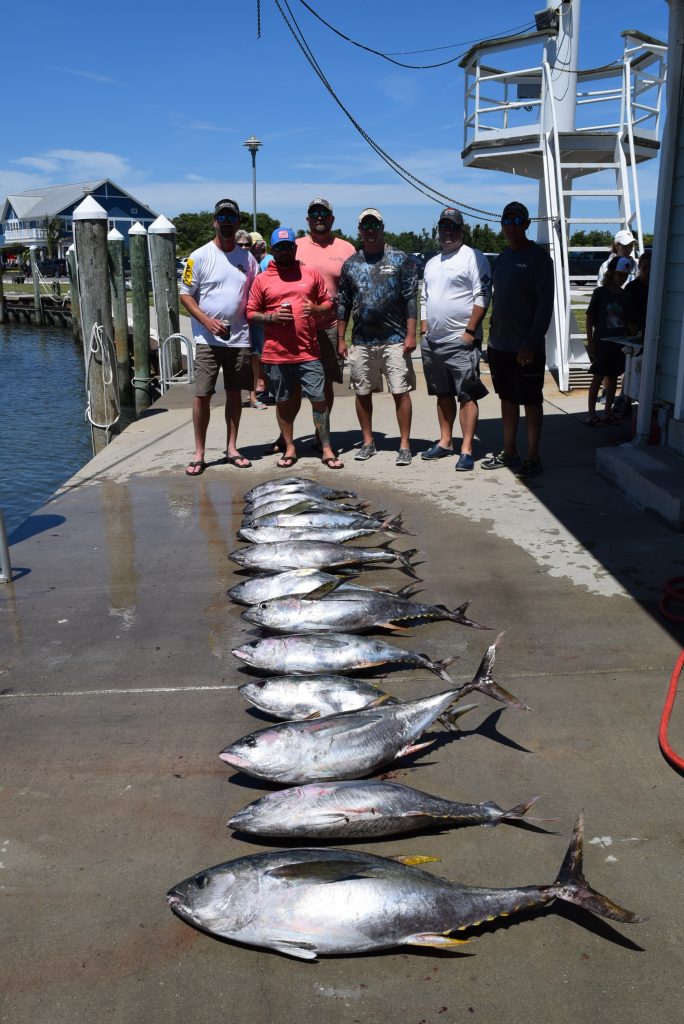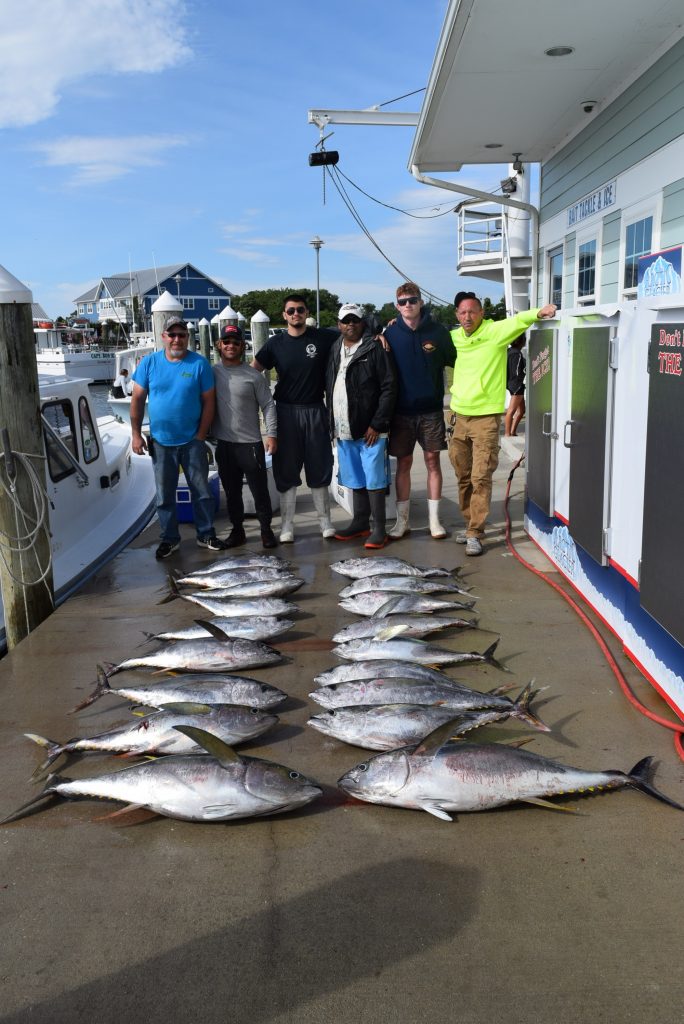 It was an awesome week for tuna, with most boats coming back with their limit. Mostly yellowfin hitting the deck this week with some bigeye in the mix.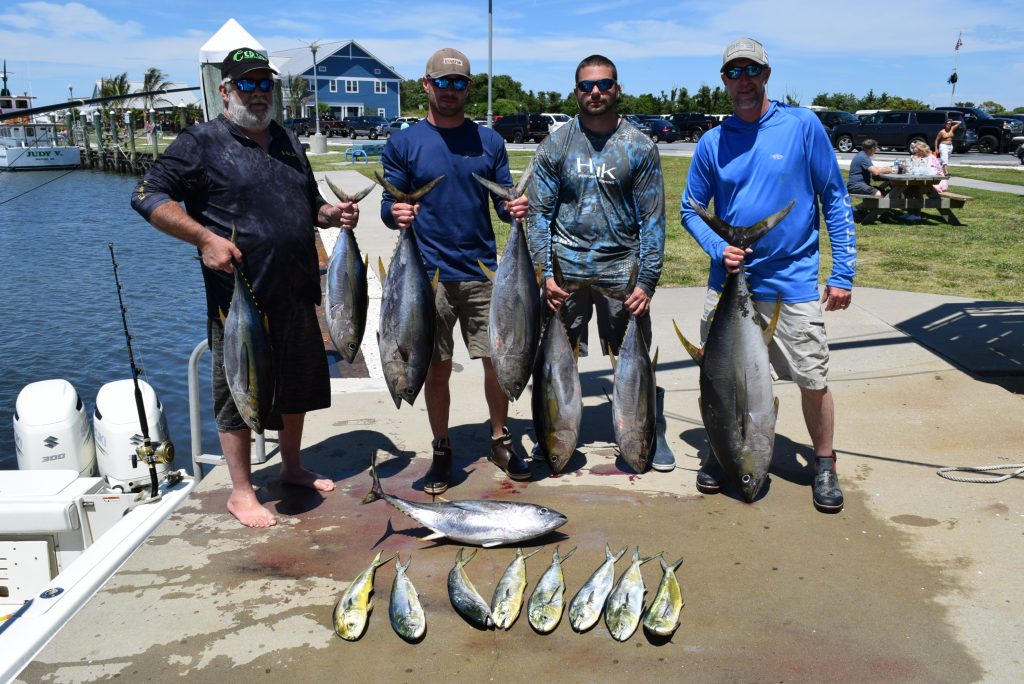 Good numbers of mahi hitting lines as well.
INSHORE
The churning water from last week's wind gave us a pretty good assortment of catches, or "mixed bag" fishing.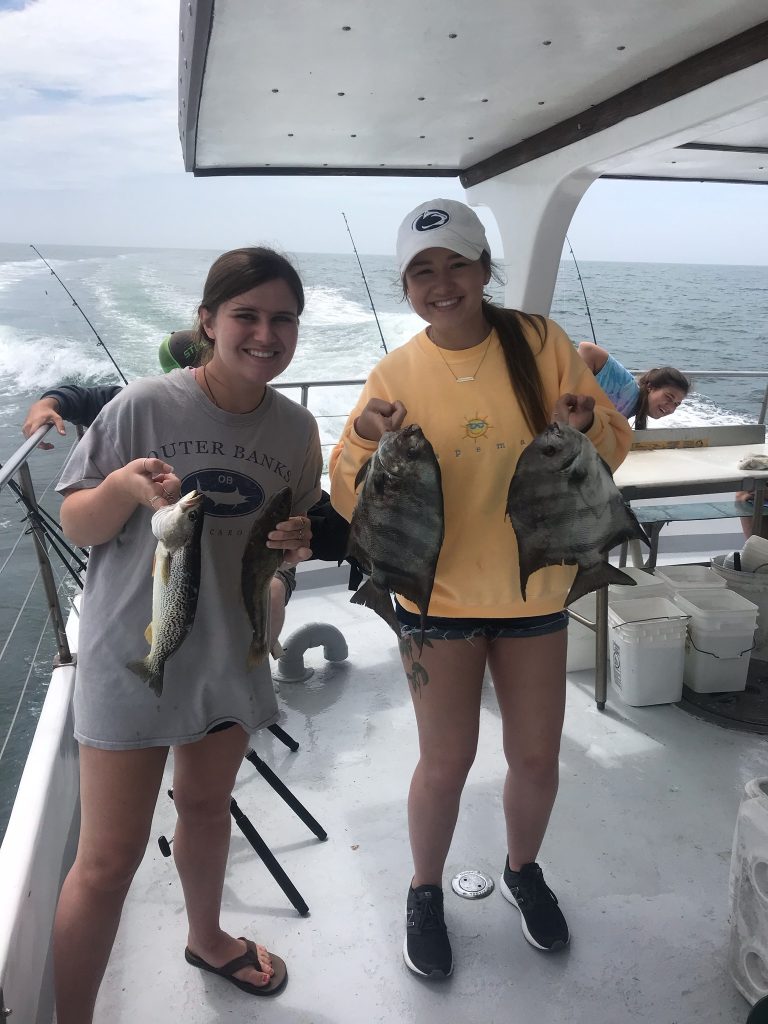 Plenty of boats hitting flounder limits this week. 
Surf-fishermen reporting kings, blues, trout, spot, perch, croaker, and even shark getting reeled in to the shore.
This week gave us the first catches of hefty black drum and sheepshead.
The best place for striper still seems to be the IR inlet after dark.
Well folks, it's looking like a beautiful weekend, so we hope to see you here.
As always, wishing you tight lines and good times!
Tags:
family
,
fishing
,
report
Written on: June 14th, 2019 in Fishing Report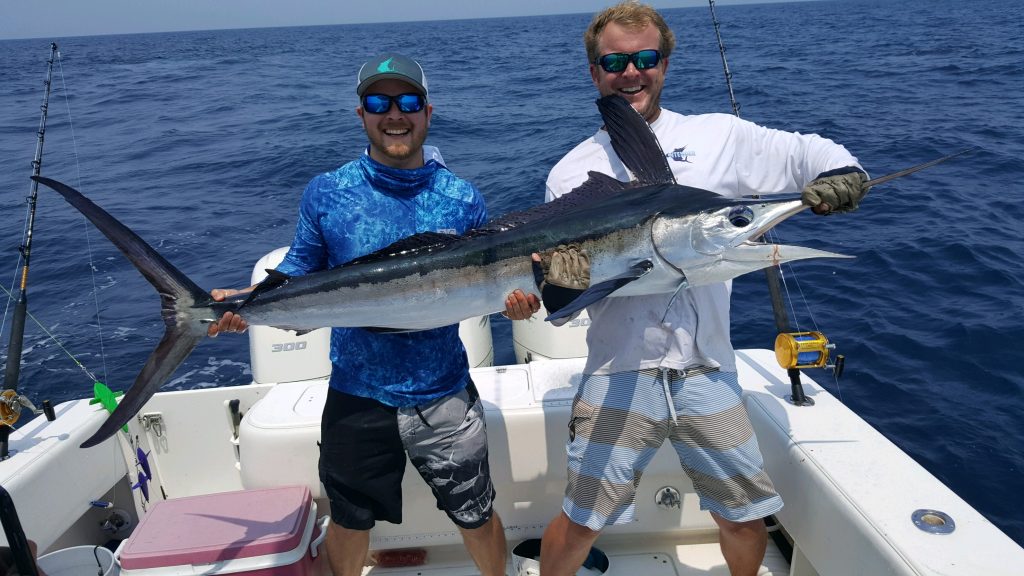 Not sure about you, but we're pretty sick of the wind this week. Crossing our fingers and toes that this all blows through in time for a beautiful weekend for our Kids Catch All fishing tournament next weekend! Don't forget to register if you haven't already!
OFFSHORE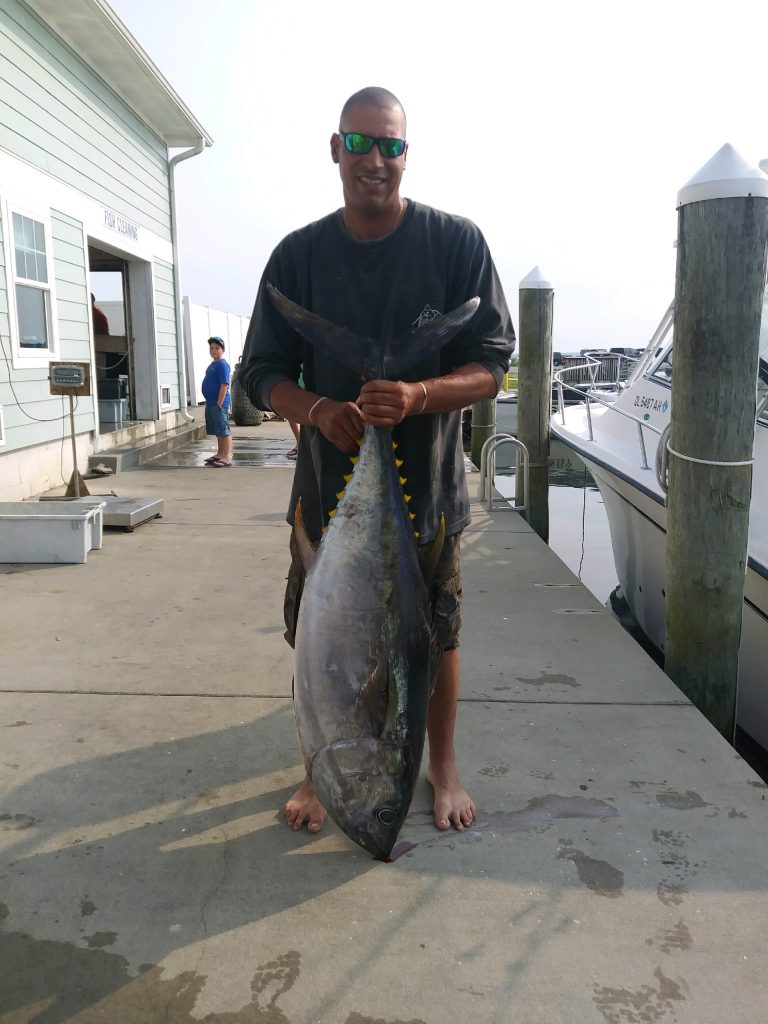 Offshore fishing was good for the boats that made it out. Bigeye bite was awesome. Anglers have had no trouble hooking up bluefin, yellowfin, mahi, and mako for the past couple weeks when they are able to go out.
Flounder also hitting the docks in limits when boaters get out.
INSHORE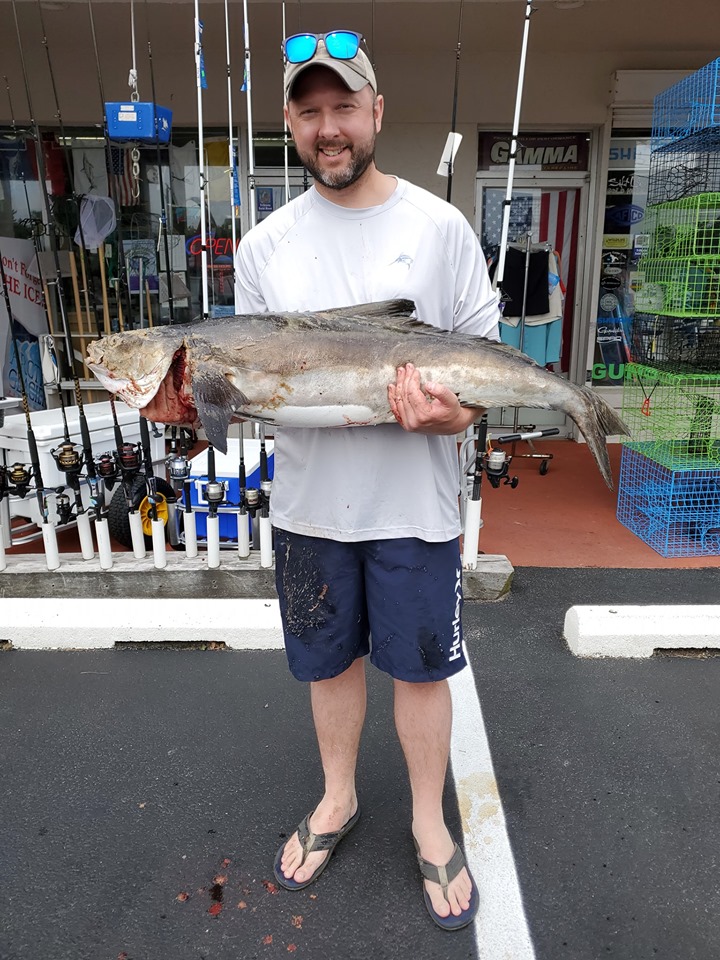 Anglers fishing off the surf are having fun landing plenty of kingfish and small trout.
Nocturnal fishermen reporting that the rockfish come through the inlet after dark 
We have lots of boats out today and this weekend, so we will update again in a couple days.
As always, wishing everybody tight lines and good times!
Written on: June 11th, 2019 in Fishing Report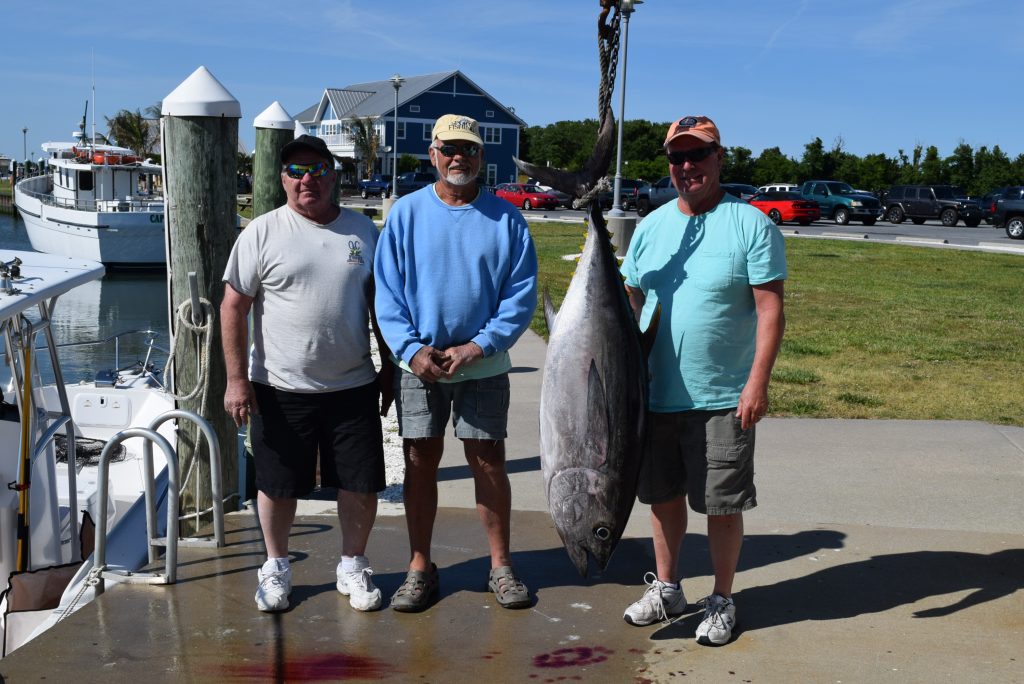 Had a good few days of northeastern storm winds blowing through – once the water clears up, the fish will be excited for some action.
OFFSHORE
Tuna getting hot, with fishermen hitting limits.
Limits of decent-sized flounder are hitting the decks with a few lucky large ones in the mix.
Reports of marlin, cobia, and mako.
INSHORE
Surf-fishing and IR Inlet fishing are still good spots for plenty of kingfish.
Reports of weakfish coming out of the Inlet as well.
DON'T FORGET – our Kids Catch All fishing tournament is coming up quick! If you have already registered online, don't forget to come get your info bag from the registration desk either Friday 6/21 between 6-8pm or Saturday 6/22 between 6-8am. Call us at 302-227-3071 or visit kidscatchall.com to find out more!
As always, wishing everybody tight lines and good times!
Written on: June 7th, 2019 in Fishing Report
It's the first Friday in June, and the fish are here – whose boat are you headed out on this weekend?! Call Miss Carolyn at 302-227-3071 to schedule your charter trip!
OFFSHORE
The canyons exploded with activity this past week, with the first report of white marlin release last weekend. Reports coming in of bigeye, bluefin, yellowfin, and even an albacore hitting the decks this week.
Plenty of mako being caught as well. Anglers hitting their limits of huge sea bass and mahi all week.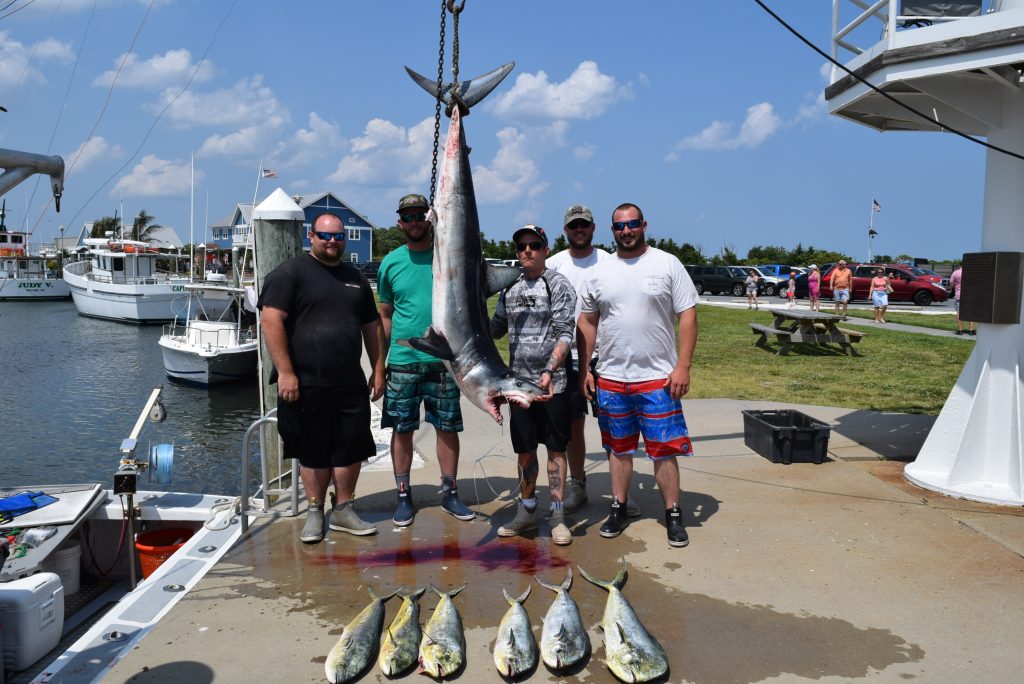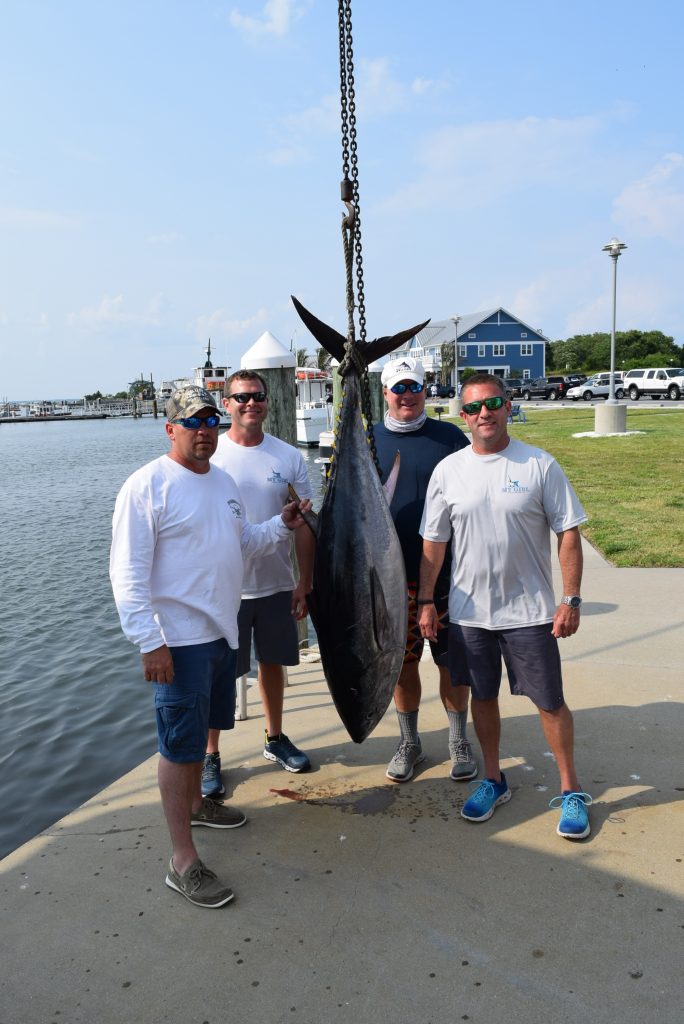 INSHORE
Fishermen up and down the coast were happy to reel in some kingfish this week. Seems they go for live bloodworm most consistently.
Flounder fishing is also picking up off the shore and some off the jetty.
Nocturnal anglers have been reeling in keeper rockfish late at night.
Don't forget that our Kids Catch All event is June 21-23. You can register in person Friday night or Saturday before 8:00 am, or you can register online before 8:00 pm. Click here to register online!
As always, wishing everybody tight lines and good times!