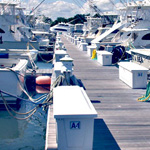 Archived Posts From: 2019
Written on: May 3rd, 2019 in Events, Fishing Report, News
Hope everyone was able to get out and enjoy the summer tease this week. It's looking nice tomorrow morning, but then it's a full two weeks of rain.
We're done with tog now, just about. People are still fishing for them, but it's few and far between at this point.
The Inlet was kicking this week, with some anglers reporting limits of bluefish. Sounds pretty good to me! The anglers with limits reported they were using minnows.
Keeper flounder have been peppering the beaches, with reports coming from CHSP fishing pier, Massey's, the canal, with more reports coming offshore.
The beaches are coming up with blues, short rock (few keepers), black drum, and blowfish.
If you want to keep up with the fishing community both locally or all over the nation, download the new social fishing app Great Anglers from your app store, for iPhone and Android. The app is free, and it allows you to see what's being caught and where, either near you or anywhere, which I love because you can see all the gorgeous tropical fish being caught down in the Gulf. The app was co-created by the owner of Hook 'em& Cook 'em, and you can follow them at hook-em&cook-em on Great Anglers.
Hammerheads is OPEN 7 days a week so come snag a snack, a meal, a drink, or all 3. They will be CLOSED next Friday May 10.
And of course, I'm going to plug the Kids Catch All until it's over.  June 21-23. Be there!!