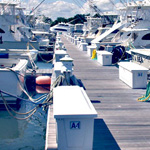 Archived Posts From: 2014
Written on: June 7th, 2014 in Fishing Report
The weather and wind are beginning to cooperate pulling in some nice water for fishing.  Offshore fishing is picking up in the Poormans and Baltimore Canyons with scattered Yellowfins, Bluefins, and Big Eyes.  There have even been catches of nice gaffer Mahi.
Inshore there are reports of Thresher Sharks, Rockfish, and in the Inlet and back bays scattered Flounder.
Clayton Anders of Hook 'em & Cook 'em Outfitters in Bethany Beach, DE, caught this 6lb 25 1/2″ weak fish while fishing at the Coast Guard Station in the Indian River Inlet with a 5″ white Bass Assassin.
Photo courtesy of Hook 'em & Cook 'em.
Until next time, tight lines!