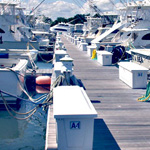 Archived Posts From: 2014
Written on: June 28th, 2014 in Fishing Report
It has been a busy week at IRM preparing for the Kids Catch-All fishing tournament this weekend, but we still have some more pictures from the past week to share.  Be sure to stop by the weigh station near Hook 'em & Cook 'em on Saturday from 3 PM until 6:30 PM and Sunday from 3 Pm until 6 PM for tournament weigh-ins.  It is going to be a great weekend here at IRM!
Offshore there continues to be good tuna fishing in the canyons, while we are still seeing some hit or miss fishing inshore and in the bays.
Garrett Miller, Joey Kaiser and Don Miller of Hershey, PA trolled ballyhoo at the Baltimore Canyon and brought back some nice mahi and a yellow fin tuna.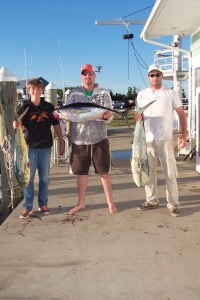 While fishing over Father's Day weekend the crew of "Get the Net" fished at the Baltimore Canyon. 9 year old Dawson Pianka his father John and brother Cody and Luke Ringler all of Lancaster, PA, had a great day of fishing. They had 3 mako releases with one landed weighing in at 100lbs. Also while at the Baltimore they caught some mahi, with one weighing in at 21.5lbs and 2 yellow fin tuna caught on the same line.
One was tail wrapped in the line with the hooked fish weighing in at 49.5lbs.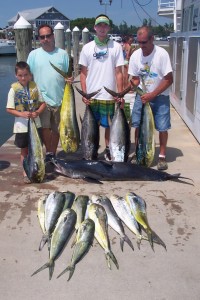 Steve Schwing, Larry Martin, Greg Hutton, Larry Horning and Tommy Hinkle all of Maryland caught these 9 yellow fin tuna while trolling ballyhoo in the Baltimore Canyon. They also reported a white marlin release.
The largest yellow fin tuna came to the docks at Indian River Marina on Friday morning after an overnight trip to the Baltimore Canyon. Angler Dr. David Moss of Jacksonville, FL, Capt. Dr. Glen Madara of Camden-Wyoming, DE and Mitchell Moskovitz of Northfield, NJ caught this 67lb yellow fin while trolling a squid spreader bar on the "Mary Stanger" of Millsboro, DE.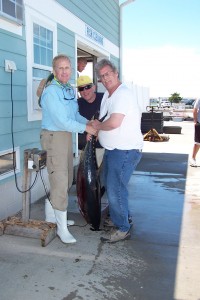 Alex Alperstein, Todd Fritchman, Dave Schulte, Jim Senker and Khris Hering of Baltimore, MD caught this 100lb mako shark, 12 yellow fin tuna and some mahi while trolling at the North tip of the Baltimore Canyon.
The yellow fins averaged between 30-50lbs.
Sharmaine "Smelt Girl" Weidman of Ocean View, DE, caught this 4.5lb and 24″ flounder with fishing with a minnow and squid along Burton's Island in the Indian River Bay.
All photos courtesy of Hook 'em & Cook 'em.