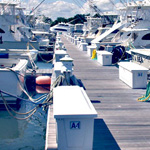 Archived Posts From: 2014
Written on: June 13th, 2014 in Fishing Report
Fishing is really picking up both Offshore and Inshore, Inlet and Bay areas.  We have alot of reports and pics to post from this past week.  Offshore is reporting heavy Yellowfin catches and scattered Big Eyes in the Poorman and Washington Canyon.  Mahi, Bluefins, Bluefish and even a White Marlin was released in the Baltimore.
The best catch of the week was by the crew of the Boy's Toy with little mate Matt Gessler, nice catch he really had his hands full with this catch.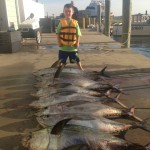 Joe Cangianelli one of IRM's wet slip holders and crew hit the docks with a 132lb Bigeye Tuna and 4 Yellowfins.  Nice catch guys!!
Captain Chris Ragni and crew hit the docks with a 170lb Bigeye while trolling at the Baltimore Canyon.
Frank Perna one of our Dry Stack customers landed 2 Yellowfins, 1 Bluefin and 6 Mahi while fishing in the Wilmington Canyon.
Glen and Brad Cave of Dagsboro hit the docks with a 180lb Bigeye Tuna, 7 Yellowfins and a Mahi while trolling in the Baltimore Canyon.
Don't forget about the Kid's Catch All Tournament at the end of this Month June 27-29!!!!   Go online to pre-register at www.destateparks.com click Indian River Marina or you can register Friday June 27 6pm-8pm and Saturday June 28 6am-8am.  Fishing from boat, headboat, jetty or beach get the kids signed up for a weekend of giveaways, food, entertainment and just good ole fashioned Family Fun!!!!!  No kid will go home emty handed!!!!
Pictures courtesy of Hook'em and Cook'em