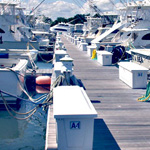 Fishing Report for 10/2/2014
Written on: October 2nd, 2014 in Fishing Report
WOW can you beleive it? OCTOBER!!! is here… and while the leaves may start turning and the weather is getting cooler there is Plenty of fishing going on both Inshore and Offshore.
Inshore and around the Inlet we have seen some Rockfish, Croaker, Founder and a few mixed varieties of small fish. We offer charters for both so call us and get hooked before the cold winter months are upon us.
Offshore reporting good fishing if and when you can make it out.  The Baltimore Canyon is producing great catches of Gaffer Mahi while in the Washington reports of Yellowfins, Big Eyes and Blackfin Tuna, big Mako and Bull sharks and even some White Marin releases here and there.  There have been reports of plenty of warmer water and Tunas up in the Hudson so we hope they will be making their way south soon!!
Hook'em and Cook'em is open daily for all your Tackle and Bait needs with Headboats running Daily.
Hammerheads is open for breakfast, lunch and dinner so come on down for a nice relaxing fall day at Dockside.
Tight Lines and Good Times!!!! forever…………………..