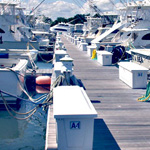 Archived Posts From: 2014
Written on: October 11th, 2014 in Fishing Report
Rain, Rain,Rain,  we had alot of boats fishing this past week and hope to have some pics real soon as there were some Big Eye Tunas and Mahi weighed in.
State record 17.1-pound sheepshead caught from fishing boat out of Lewes
LEWES (Oct. 8, 2014) – DNREC's Division of Fish & Wildlife has confirmed a new state record in the Delaware Sport Fishing Tournament: a 17.1-pound sheepshead caught on Sept. 29. The fish was 28 inches long and had a girth of 24 inches.
David Walker of Boothwyn, Pa., who caught the fish in the lower Delaware Bay over a rock pile on a green crab, noted that his record catch was "delicious!" The catch is recognized as a Delaware record since the fish was caught from a boat out of and returning to a Delaware port.
The record catch was initially confirmed by Natural Resources Police Fish & Wildlife Enforcement officer AFC Joshua Hudson, and verified at the Lewes Harbour Marina in Lewes.
The previous record holder was Christopher H. Wentz, who caught a 15.11-pound sheepshead in 2012.
Nice Job!!!!
The Ship's Store is open daily with all your winterizing needs.  There are plenty of discounts so come on in for that special Holiday present !!!!!