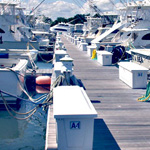 Fishing Report for 7/19/15
Written on: July 19th, 2015 in Fishing Report
WOW some really great fishing  here at Indian River Marina.  We are still having some technical difficulties with the new camera system and  we will get pics up and reports as  they come in.  Inshore reports of Sharks, Seabass, Triggerfish and plenty of nice size Flounder both in the Back Bays, Inlet and off the beach.  Offshore fishing is red hot again with incredible Bigeye Tuna's being weighed in daily!!  Scattered Yellowfin and Blufin Tuna, Mahi and an increase in Blue and White Marlin Releases.  Check out the Indian River Marina web-site fishing report with pics of all our daily catches.
A family tuna trip turned into a great fish story when this 667lb mako was caught in the Fingers just as the crew of the "Ocean Drifter" had wrapped up their chunking for tuna. They were cleaning up the gear when this mako showed up looking for more food. They threw out a ballyhoo, then a bunker and finally brought out a frozen trolling squid when on the second pass it took the hook. Angler Christian Ostrowski reported they fought the shark for forty-five minutes on the trolling squid with wire and 400lb mono in about 110′ of water. Pictured are Angler Christian, David, Carmean and Capt John Ostrowski from Chadds Ford, PA.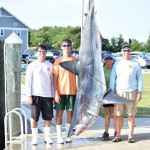 Pictures courtesy of Hookem & Cookem!!!