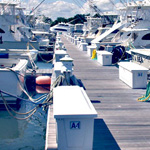 Fishing Report for 7/26/15
Written on: July 26th, 2015 in Fishing Report
What a beautiful weekend here at IRM….  The weather made for another succussful Seafood & Arts Festival and plenty of good fishing.  Inshore reports range from incredible Flounder fishing, triggerfish, Seabass, croaker and some coastal sharks.  Offshore reporting a bit of a slow down in the Tuna fishing, still some scattered Bigeyes and Yellowfins and plenty of skippies.  Some nice Wahoo and Gaffer Mahi have been landed as well.  White and Blue Marlin releases seem to be steadily increasing which is good news for the White Marlin Tournament coming up soon.
The Capt. Bob II had a full day fishing trip on Sunday out at the Old Grounds using cut bait and squid. They limited out on flounder with the fish ranging in weight from 2lbs-5lbs with everyone taking home their limit. Pictured are Connie and Sam Groff of , Lawrene Nixon Anfinson (celebrating her 72nd birthday) her grandsons Brennan Ralls and Ruslan Nellis, Mike Zita, Capt. Roger Meekins, Super Mate Chris Adams and Ed Maull.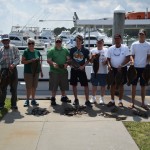 Charlie Horning and his crew aboard the Fish Whistle had a great overnighter landing these Big Eyes.  Nice job guys!!!
The Gessler Family from the Boy's Toy along with George Merrick, and Jimmy Taylor caught these 3 big eye fishing Wilmington Canyon. They were trolling ballyhoo in the evening to night. The fish weighed in at 120-180lbs.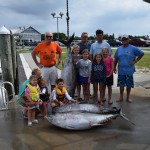 Till next time Tight Lines & Good Times!!!!!!