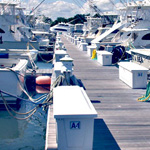 Archived Posts From: 2016
Written on: May 31st, 2016 in Fishing Report
Fishing was awesome this weekend! We had a charter boat limit out on Sea Bass. Other inshore catches were Flounder and Rockfish. Offshore Yellowfin and Big Eye Tuna were caught. Also the 1st Blue and White Marlin of the season were hooked over the weekend.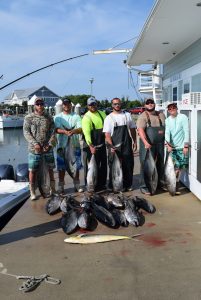 The crew of the "Finsatiable" Nate Leo, Johnny Coffiey, Jimmy Coffiey, Luke Horney, Andrew Coffiey and Vito DiFrancesco all from Wilm, DE, caught their limit of yellow fin tuna and one 14lb mahi while fishing at the Norfolk Canyon on Wednesday May 26th.  They caught them on the troll using ballyhoo.  The largest on weighed in at 46lbs.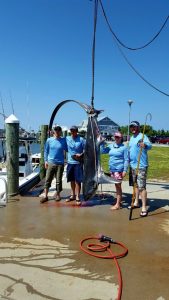 The crew of the "Just Got Reel" boated this 297lb Thresher shark while out  at the Old Grounds.  They told me they caught this using the fairly new product called "Bloodstream" and a whole mackerel. Picture is Mike Salah, Brett Glatfelter and Amber Kelly all from Wilm., DE, and Scott Binsfeld of Phila., PA.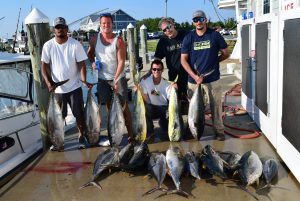 Nino Mallari, Jeff Rosenkilde, Mike Turner, Joe Cangianelli and Moe Fisher all from Baltimore, MD caught these yellow fin tuna while out 10 miles south of the Washington Canyon on the 500-1000 fathom line.  They were trolling ballyhoo.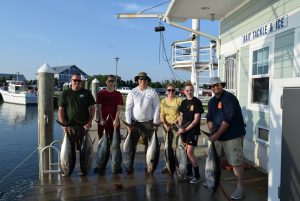 Brian, Jessica and Taylor Howell, Nate and Rich Dunham and Alex Geroux all from Stewartstown, PA fished with Rusty Reel just south of the Washington Canyon trolling ballyhoo and boated 8 yellow fin tuna and 1 mahi.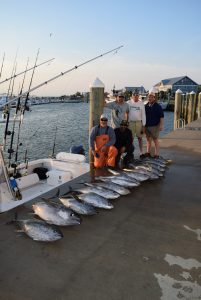 Scott Stapleford of Milford, DE, Danny Thwaites of Dover, DE, Ken Decker of Smyrna, DE, Mike Babcock of Lewes, DE and Tom Schanne of Relay, MD fished on the boat "Even Keeleigh" and managed to get these 13 yellow fin tuna, 1 mahi and one big eye that weighed 68lbs had the tail bitten off by a mako.  Unfortunately they were unable to hook up the mako.
Til Next Time Tight Lines and Good Times!
Photos courtesy of Hook'em & Cook'em