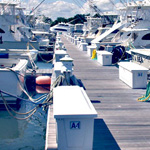 Archived Posts From: 2017
Written on: July 21st, 2017 in Fishing Report
Fishing Report 7-21-17
The fishing is hot…just like the temps outside!  Check out these reports and pics: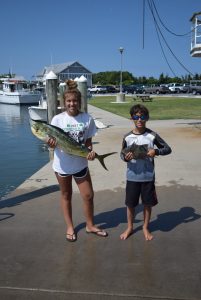 Brynn Harrison and her brother Clay, of Boyertown, PA fished out at B-buoy and caught this nice trigger fish using cut bait and then traveled a little farther east to hook up a 10lb mahi on a feathered jet lure. Good job guys!!!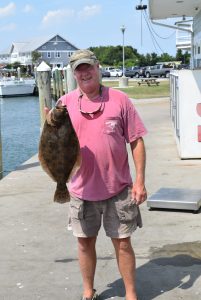 Burt Campbell of Dagsboro, DE caught this nice 5.9lb and 23 7/5 inch flounder while drifting on the south side of the Indian River Inlet. He was using a 1/2oz jig with a white Gulp bait.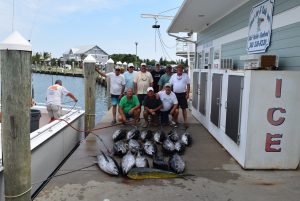 This trip on the Capt. Ike II was successful for Mike Lawson, Tom Healy, Jeff Ratlif and Connor Devine all from Fairfax, VA. They were chunking out at the Hot Dog and landed these 6 nice yellow fin tuna weighing in at 45-55lbs.  Capt. Dave Collins and Capt. Brian Joseph put them on the meat even with some nasty sea conditions that day.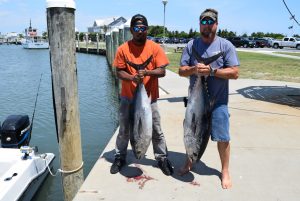 Nino Mallori and Tom Handy of Dagsboro, DE caught these nice tuna while the troll was still good out at Massey's Canyon on the "Booby Trap".  They used blue and white skirts on rigged ballyhoo. These fished weighed 45lbs and 50lbs.
Photos courtesy of Hookem & Cookem Bait Tackle and Seafood.
Til next time, tight lines and good times!