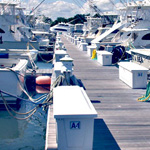 Fishing Report 9-8-17
Written on: September 8th, 2017 in Fishing Report
Fishing Report 9-8-17
When folks did have a chance between storms to get out and fish, they landed some nice ones.  Check out the pics and reports below.
Don't forget to stop by the Fisherman's Flea Market on Saturday, Sept 9, 2017, from 9am to 3pm.  Our slipholders will have fishing gear and boat related items for sale.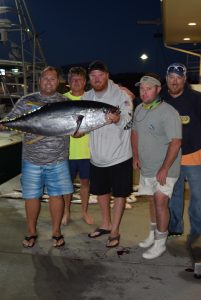 Engine problems on the 3 Amigos didn't stop their charter from going out this day, when fellow charter boat Last $, run by Capt. Rodney Meyers helped them out.  They fished out at the Baltimore Canyon and brought back this 68.3lb yellow fin tuna.  Picture are Angler Corey Evans of Bethany Beach, DE, Capt. Rodney Meyers of Ocean View, DE, Chris Birney of Wilmington, DE, Richard Harrel of Millsboro, DE and Kevin Dennison of Bethany Beach, DE.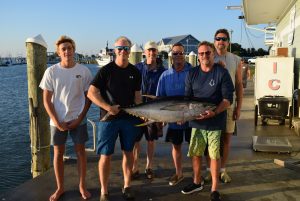 The crew on the Sea Lazer fished out on the west wall of the Baltimore Canyon and brought back this 67.5 yellow fin. Pictured are mate Wes Hobbs of Long Neck, DE, Capt. Mike Fitzgerald of Annapolis, MD, Steven and Billy Doyle of Huntingtown, MD, angler Ken Doody of Fenwick, DE and Steve Geis of West Fenwick, DE.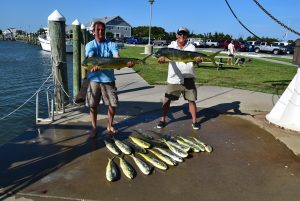 Sam Sloan and Barry Chisnell of Millsboro, DE caught these 20 mahi along with 3 white releases while trolling and chunking out at the Wilmington Canyon on the "Reel Wife".
Photos courtesy of Hookem & Cookem Bait Tackle and Seafood.
Til next time, Tight lines and good times!