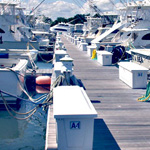 Archived Posts From: 2014
Written on: July 4th, 2014 in Fishing Report
HAPPY 4TH OF JULY!!!!   GO AWAY ARTHUR!!!!!!
We are weathering the storm well at IRM.  Heavy rain and winds as of 9:00am should all clear out of here late afternoon early evening.
The 1st Annual Kid's Catch-All was a huge success with 75 kids entered.  You can catch a glimpse of all the kids and their catches on a nice spread in the Coastal Fishermen.  We have plenty in the Lobby of the Marina Office.  Here are some pics from the past week of fishing.
One of our Charter's Galeforce with Captain Aaron Hurd aboard and crew landed 14 Keeper Flounder.  Nice catch!!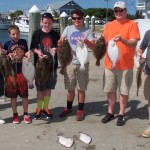 Here are some great catches of Flounder and Rockfish all  landed in the Inlet and off the Inshore Headboats docked at IRM.
Till after the Storm Tight Lines and Good Times!!
Pictures courtesy of Hook'em and Cook'em