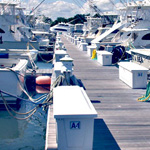 Archived Posts From: 2014
Written on: July 15th, 2014 in Fishing Report
The Indian River Marina saw one of its busiest weekends ever this past week.  Hammerheads Dockside had great crowds and Hook 'em & Cook 'em looked quite busy.  Offshore there have been good reports of blue fin and big eyes.  Inshore and in the Inlet there has been some good flounder fishing.
While trolling a spreader bar with green squids Jacob Williams and Kristin Wagner of Milford, DE caught these mahi weighing up to 25lbs and a 51lb blue fin tuna out at the Tea Cup.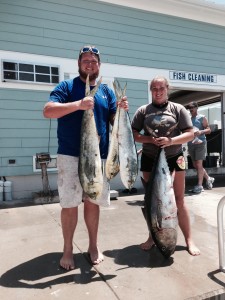 Pete Standarowski of Newark, DE, Jamie King, Adam Marvin, Jimmy Carpenter, Jason King and Will Emmert of Milton, DE caught 60.6lb yellow fin tuna, 2 mahi and had a white marlin release all while trolling a blue and white Ilander at the Baltimore Canyon on the "Elizabeth Jane".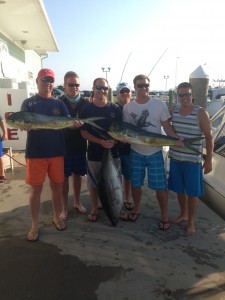 Mate Dillin Bennet of Dagsboro, DE, Tom Schultz of Pasadena, MD, his brother Gene Schultz of Salisbury, MD, Tyler Long, Stephen Kiefer, Capt. Roger Meekins, Jeffrey Shollenberger and Gene Shollenberger all of Emmaus, PA were 2 shy of their flounder limit on the full day trip on the Capt. Bob II. These 22 flounder were caught on Gulp, cut bait and shiners and squid. Tyler had the biggest fish weighing in at 5lbs.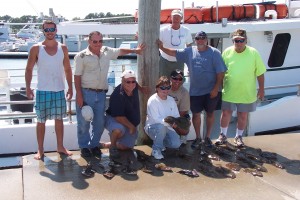 John Danricki, of Pottnets, DE, caught this 5.6lb and 25 1/2″ flounder while fishing out at the Old Grounds on a home made bucktail.
Scott Borino of the Indian River Marina landed his first flounder while fishing in the Inlet.  This 16.5″ fish was caught on a live minnow and squid.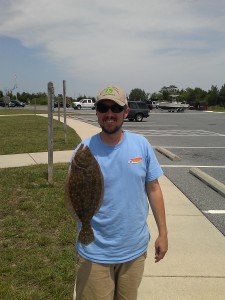 The IRM Seafood and Arts Festival on July 26th is fast approaching.  Over 50 vendors are registered for this year's event so please mark your calendar for a great day filled with nautical themed art, delicious seafood, games and crafts for children, and live music.  For more information please call the marina at 302-227-3071.
Photos courtesy of Hook 'em & Cook 'em