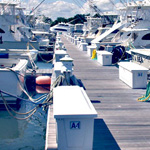 Archived Posts From: 2014
Written on: July 28th, 2014 in Fishing Report
The good fishing continues both Inshore and Offshore here at the Indian River Marina.
Inshore still seeing a lot of nice flounder, sea trout, Bluefin Tunas and some beautiful gaffer mahi.  The inlet and back bays has slowed down a little but flounder and sea trout are still coming back to the docks.  Stop by our weigh station daily to see your favorite fish hitting the scales.
Offshore fishing is hot with lots of Mako and Hammerhead sharks, Yellowfin and Big Eye Tuna, White and Blue Marlin releases.  There have even been a few Longfin Tunas in the mix.
Yesterday wrapped up another Local Fishing Tournament and we want to give you a report from two great days of fishing.  The Wilmington Canyon was on fire with dozens of Big Eye Tunas, Longfin and Yellowfin Tunas and Swordfish.  Hundreds of White Marlin Releases were reported in the Washington.  Let's hope this great fishing continues all summer!!!!
We hope to have some pics posted for you soon from the weekend.
Check out our Charter Fleet online or call 302-227-3071 to get hook up with your own private charter.
The Seafood & Arts Festival was a huge success despite the afternoon rain.  With record breaking crowds, vendors and boat traffic we will be posting some pics and next years date online soon.
Till next week tight lines and good times!!!