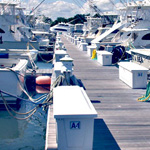 Archived Posts From: 2016
Written on: July 2nd, 2016 in Fishing Report
Fishing is really picking up Inshore and Offshore. This weekend is going to be amazing down here at Indian River Marina. Stop by Hammerheads and get a cool drink and watch all the fish come across the gangway!
Here are some photos of the recents catches.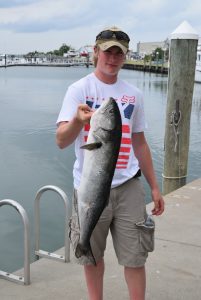 Beau Bright of Elkins, WV, caught this 10.5lb blue fish while fishing in the Indian River Inlet with Capt. Aarron Hurd of Gale Force Charters.
Capt. Aarron reported that during the early morning on incoming tide was best using Clarkspoons.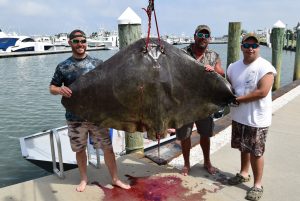 In Rehoboth Bay, Johnny Walls of Hockessin, Rich Franz of Harrisburg, PA and Rich Yoder of Oley, PA took this 142 lb butterfly ray while bowfishing.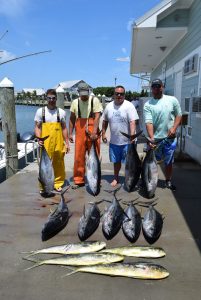 An overnight trip to the Poor Man's Canyon turned out well for the crew on "Knock on Wood" While trolling ballyhoo Chris Long of Wyoming, DE, Carter Dudzinski of Elkton, MD, Dave Woods of North East, MD and Johnny Coffiey of Hook 'em & Cook 'em, caught 9 yellow fin, 4 mahi and 2 white marlin releases.  The largest weighed 53lbs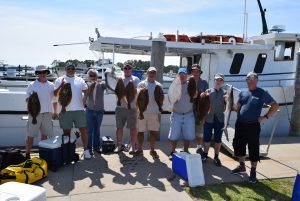 The full day fishing trip on the Capt. Bob II had a good day of flounder catching with 35 flounder coming over the rails. Capt. Roger Meekins reported that most of the fish were caught around the Old Grounds area either jigging Gulp baits or using a top and bottom rig with squid and minnows. The largest fish weighed 6.3lbs and measured 26″ and was caught by Henry Warren. Pictured are Mike Hamilton of Newark, DE, Darrell Doupnik of Easton, MD,  Jay Schimdt of Ocean View, DE, Tom Adkins of Denton, MD, Henry Warren of Milford, DE and (originally from Poland) Radek Lempicki, Jozek Kolono and Damian and Ploszaj Stanislaw, all from Wilmington, DE.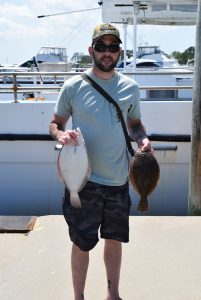 Michael John of Rehoboth Beach, DE caught these to 16″ flounder while on the Capt. Bob II with Capt. Roger Meekins. Michael caught these while fishing at the Old Grounds using cut bait.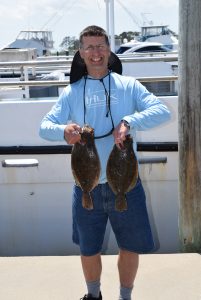 Joe O'Brien of State College, PA caught these keeper 17″ flounder while fishing with Capt. Roger Meekins on the Lazy Man's Trip on the Capt. Bob II. They fished out at the Old Grounds using cut bait.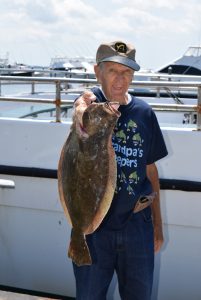 Fran Saltysiak of Balitmore, MD caught this fish pool winner on the Capt. Bob II with Capt. Roger Meekins. The fish measured 23.5″ and weighed 4.2lbs and was caught at the Old Grounds using cut bait on a top and bottom rig.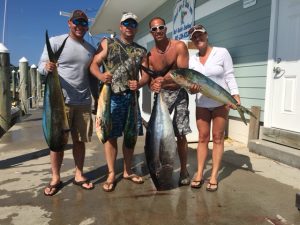 The "Jack Rabbit" trolled in Hambone for tuna on Monday using a pink skirted ballyhoo and brought back a nice 64.8lber. Robert Grover, John Kopanski, blue fin angler James Trickey and Julie Trickey all from Middletown, DE also brought home 4 mahi.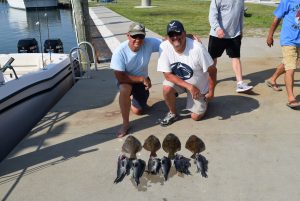 Don Gettle of Ocean View, DE and Mitch Gettle of Dillsburg, PA took a trip out to C-Buoy and brought back 4 flounder and 6 keeper sea bass.
Don caught all of the black sea bass,using squid, with the largest measuring 15″ and Mitch caught all of the flounder using squid and minnow on a chartreuse and white flounder rig, with the largest measuring 19″.
Have a Happy 4th of July!
Til next time Tight Lines and Good Times.
Photos courtesy of Hook'em & Cook'em.