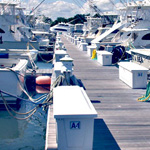 Archived Posts From: 2016
Written on: July 14th, 2016 in Fishing Report
Happy Friday!!! Gives us a call here at the marina to book your next charter fishing trip. Call 302-227-3071 and ask for Carolyn. She will get you set up with a charter for inshore or offshore fishing.
Check out some of these great pics catches from this week.
Capt. Rodney Meyers of the Last $ Charters, Mike Phillips, Mike Vaughnn and Ariella Meyers took a trip out for the blue fin. He wasn't disappointed with this 70.1lb tuna.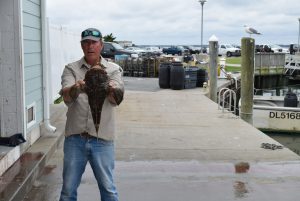 Jack Hamilton of Phila., PA, caught this 4.3lb monkfish while fishing using Gulp bait.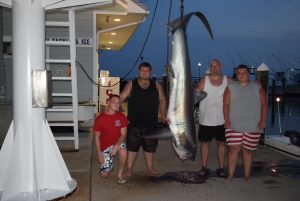 Mason Armao of Womelsdorf, PA, and Dustin, David and Kerry Wolf of Reading, PA brought this 364.5lb Thresher shark in after a long 6 hour fight.  They hooked this shark up at 12pm and finally got it to the boat at 6pm.  Then they had to drag this beast to the dock slowly and didn't wind up getting in until after 8pm.  This Thresher was caught using a whole mackerel, but it also had plenty of bunker in its stomach.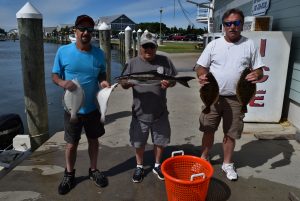 Earl Mondy of Rising Sun, MD, John Debenevitto of Lancaster, PA and Vince Barr of Newark, DE fished at Site 10 using bunker strips and came back with 7 keeper flounder and this 6.8lb cobia.
Here are some great flounder pics:
Also, check out these catches from the Michael D, a charter vessel based out of Indian River Marina:
Photos courtesy of Hookem & Cookem Bait – Takle – Seafood.
Til next time, good times and tight lines!
Written on: July 14th, 2016 in Fishing Report
Welcome to the sweltering heat! Come on down and get out on a boat and do some fishing. It is always cooler out on the water. We are seeing some good fishing. Hookem & Cookem had been busy cleaning fish all week. Check out some of these catches.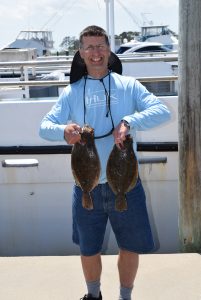 Joe O'Brien of State College, PA caught these keeper 17″ flounder while fishing with Capt. Roger Meekins on the Lazy Man's Trip on the Capt. Bob II. They fished out at the Old Grounds using cut bait.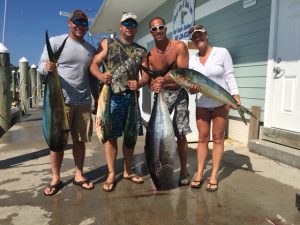 The "Jack Rabbit" trolled in Hambone for tuna on Monday using a pink skirted ballyhoo and brought back a nice 64.8lber. Robert Grover, John Kopanski, blue fin angler James Trickey and Julie Trickey all from Middletown, DE also brought home 4 mahi.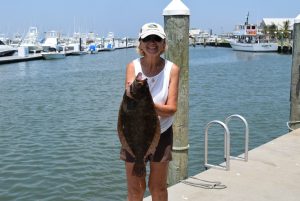 Annie Fredrickson of Rehoboth Beach, DE caught this 6lb and 25″ flounder while fishing out at Site 10 using squid and minnows.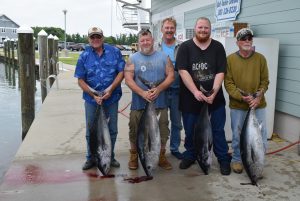 Steve Kissling of Burnville, PA, Mark Barr of Leesport, PA, Jeff Kissling of York, PA, Travis Stolz of Robesonia, PA and Lee Filbert of Mohrsville, PA took a trip with Capt. Ike II out to the Poor Man's Canyon and had a good day of tuna fishing. They caught four blue fin tuna while trolling ballyhoo and the largest 55.5lbs.
While on the Capt. Bob II with Capt. Roger Meekins Stephanie Stuble of State College, PA caught these keeper 16″ and 17″ flounder. These were caught out at A-Buoy using cut bait on a top and bottom rig.
Photos courtesy of Hook'em & Cook'em Bait-Tackle-Seafood.
Til next time, good times and tight lines!!!