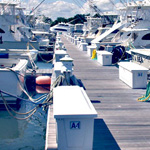 Fishing Report 7/22/16
Written on: July 22nd, 2016 in Fishing Report
Happy Friday! The heat is on for at least the next five days, so try and stay cool. We have our Seafood and Arts Festival here at the marina Saturday, 7/23/16, from 10am-6pm.
We are seeing some good tuna fishing off shore, so give us a call at 302-227-3071 to book a charter trip on one of our charter fleet boats. Call in and ask for Carolyn.
Check out these catches from this week.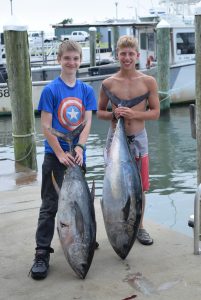 Liam Coyle and William Winkler, both of Frankford, DE, chunked butterfish while out at the Canyon and caught their first blue fin tuna. Liam landed a 60lb tuna and Will caught an 86lb tuna.
Twin sisters Lilly and Sophia Merrick, daughters of Capt. George Merrick, fished on the Boy's Toy and caught their first blue fin tuna. They were chunking butterfish to catch this 71lb tuna.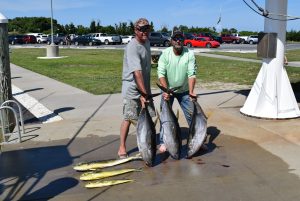 Dennis Robbins and Dwayne Dodd of "Double D Sportfishing", fished with chunked butterfish and sardines and hooked up with these 3 yellow fin tuna that averaged 40lbs and also brought back 3 mahi.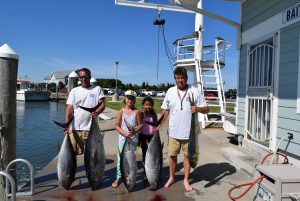 Chad Tingle of Frankford, DE, Kiira Akers of Montana, Frank Blomquist (not pictured), Ariella Meyers and Capt. Rodney Meyers from the Last $ fished with chunked butterfish and squid and came back with 2 blue fin tuna, 2 yellow fin tuna and a mahi. The largest blue fin weighed 70lbs.
Photos courtesy of Hookem & Cookem Bait-Tackle-Seafood.
Til next time, good times and tight lines!