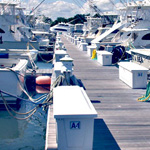 Archived Posts From: 2018
Written on: September 3rd, 2018 in Fishing Report
We made it, folks – Labor Day is officially here! And what a gorgeous day for fishing to top it off.
Fish have been hitting the docks despite the intermittent storms all weekend. Inlet fishing has been poor, but fishermen are reporting that there is plenty to catch out in deeper water at the Del-Jersey-Land Reef and the 30-Mile Wreck.
Now that the summer crowds are clearing up, it's a great time to head out on the water on one of our charters! Call Carolyn at 302-227-3071 to get hooked up with an offshore trip.
Have a wonderful Labor Day, and until next time, tight lines & good times!