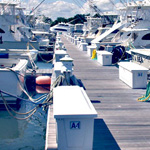 Archived Posts From: 2018
Written on: September 6th, 2018 in Fishing Report
The Labor Day bustle is out the door down here at IRM. While we haven't had many people around, those that do come in are bringing back some great hauls. Looks like flounder fishing is really stepping up with a couple monsters hitting the decks this week.
DON'T FORGET – Come down for our Fisherman's Flea Market this Saturday from 9:00 am – 2:00 pm to buy gently-used, professional fishing equipment and whatever else our slipholders are selling!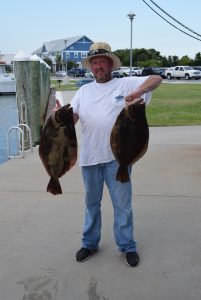 Posing with Toby Miller's fish is Capt. Don Gillis, both of Dover, DE. This fish was caught out by Toby while at Site 11.  This 9.5lb and 28 inch flounder using a Spro bucktail with a 6″ Gulp grub and squid strip.
Brugh Moore of Rehoboth Beach, DE caught his first flounder on Tuesday and boy what a whopper it was.  This 9lb and 28 inch flounder was the largest flounder we have seen come in from the Indian River Inlet this summer.  It was caught using a chunk of mullet on a circle hook while fishing in front of the Coast Guard Station.  He will be spoiled forever now!
Fishing out at the Rock Pile was very productive for the crew of the Even Keeleigh.  They were deep dropping squid and cut bait to bring back this batch of large black sea bass and some very nice blue line tile fish.
Pictured are Capt. Mike Babcock, Tom Schanno, Brandon Arnett and Ian Fifer.
Cousins, Alexis and Jeb Zolper, both from Rehoboth Beach, DE fished out at the Lightship with chunks of mullet to bring in this catch of mahi. The largest fish weighed 3lbs and was caught by Alexis.
Enjoy the waning summer offshore on one of our charter boats! Call Carolyn at 302-227-3071 to squeeze in that fishing trip before the cold winds take over.
Until next time, tight lines & good times!