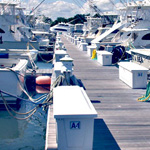 Archived Posts From: 2018
Written on: September 21st, 2018 in Fishing Report
It has been a long couple weeks down here at the marina. After a hefty nor'easter and a light brush with Hurricane Florence, we are just starting to see our fishermen's faces down on the docks again. Luckily we made it through the storms with no notable storm damage, but our thoughts are with those in North Carolina.
Due to the weather, there has been little to no interest in fishing for the past couple weeks, but current offshore sources say the waters are loaded with mahi, with a few white marlin and wahoo hitting the docks as well. Spot, croaker, flounder, and blues are getting hooked from Cape Henlopen on down to the Inlet, with the CHSP fishing pier being the only consistent location.
Weather is looking beautiful for tomorrow, so come on down to IRM and spend the final day of the (official) summer on a boat! Call Carolyn at 302-227-3071 for more information and for reservations.
Until next time, tight lines and good times!