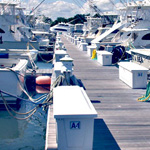 Archived Posts From: 2019
Written on: August 29th, 2019 in Fishing Report
Happy Labor Day Weekend!!!
It looks as though the weather is going to settle down and our boats will leave the docks this weekend.
Before the blow we had some great fishing reports and fish hitting the docks like Flounders, Tunas, Tilefish, Mahi and many Marlin Releases.  With the weather being just right let just hope the fish will bite for all the boats headed out over the weekend.  We will keep you posted as soon as we receive some reports.
Upcoming events Saturday Sept. 7th 9am-2pm The Fisherman's Flea Market in the parking lot in front of Tackle Shop in Marina.  This may not be a huge event but this I can say, the equipment and gear your fellow slip holder's put out is plentiful and sometimes quite unique.
The 1st Annual Autunm Art Festival is Saturday Sept. 14th 10am-5pm.  We will have all sorts of fun from over 60 art vendors, food, pumpkin painting, pinata's, face painting, music, craft beer and wine tasting under the new pavilion and much more…so bring the entire family down for the event.
Hope to see you at all of our events in September.  Till then Tight Lines and Great Times!!!!
Written on: August 20th, 2019 in Fishing Report
What a week of thunderstorms! Hope nobody got caught in that pop-up tempest that hit the Sussex/OCMD area yesterday.
We wanted to wish all our IRM slipholders the best of luck in the Mid-Atlantic Fishing Tournament this week! Bring us another win home!
OFFSHORE
Tons of blue and white marlin releases being reported offshore. Record-breaking wahoo hitting the scales, mahi limits being hauled in, and scattered yellowfin tuna.
These pop-up storms are definitely stirring up the fish!
INSHORE
Inshore reports plenty of flounder for last week's Flounder Pounder, as well as bluefish, and limits of spot coming out of inshore.
Keep your eyes on that leaderboard – good luck again to our IRM boats!
Wishing everyone tight lines and good times til next time!
Written on: August 15th, 2019 in Fishing Report
The weather and fishing is great so come on down and book a trip with one of our 28 Charter Boats and 2 Headboats you will surely get hooked.
Inshore we are getting slammed with the Flounder just in time for the Flounder Pounder this week.  We have alot of transients and slipholders fishing this tourney and we want to wish all of you good luck.
With the White Marlin Open Winner out of IRM we are hoping for another big winner by Sunday.
Offshore reports of Big Eye Tuna, Yellowfins, Mahi and Wahoo.  The largest Big Eye tuna weighing in at 235 lbs  in Delaware this year by yes another slipholder family the Ostrowski's.   Way to go everyone.
The weekend is going to be hot! hot! hot ! so come on down and have a bite to eat and a coooool beverage and get hooked on IRM.
Till next time Tight Lines & Good Times 🙂
Written on: August 10th, 2019 in Fishing Report
Indian River Marina – HOME OF THE 2019 WHITE MARLIN OPEN CHAMPION!! Massive congratulations to our very own Captain Charlie Horning on winning the White Marlin Calcutta with his 79.5 lb catch.
If you see Charlie or his angler Tommy Hinkle, be sure to give them a thumbs up!
Here are some more pictures from these past couple of weeks of fishing: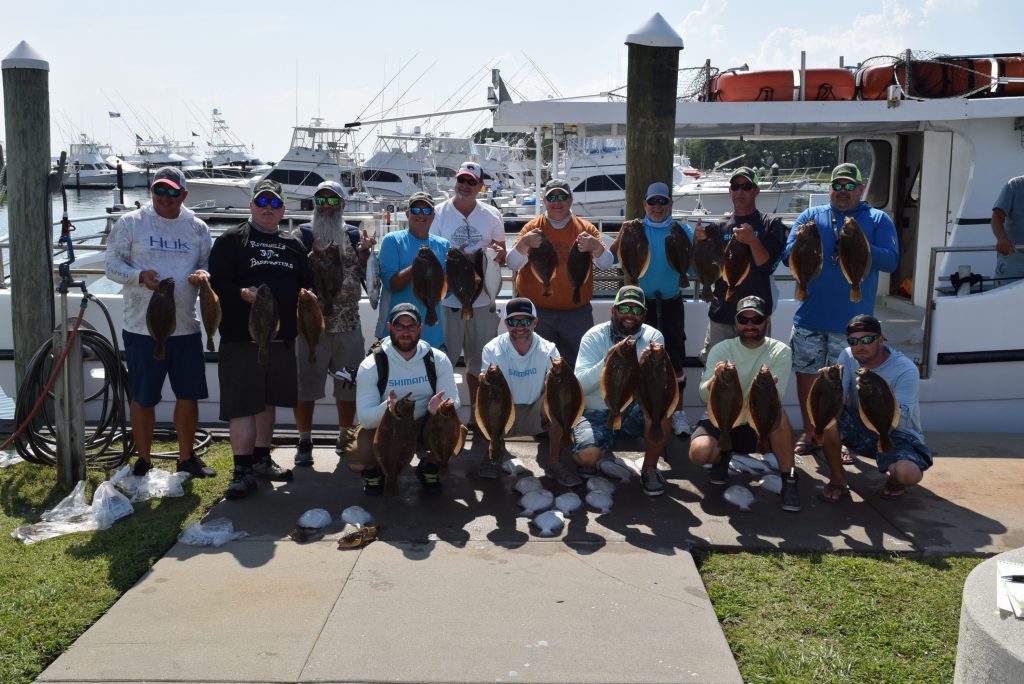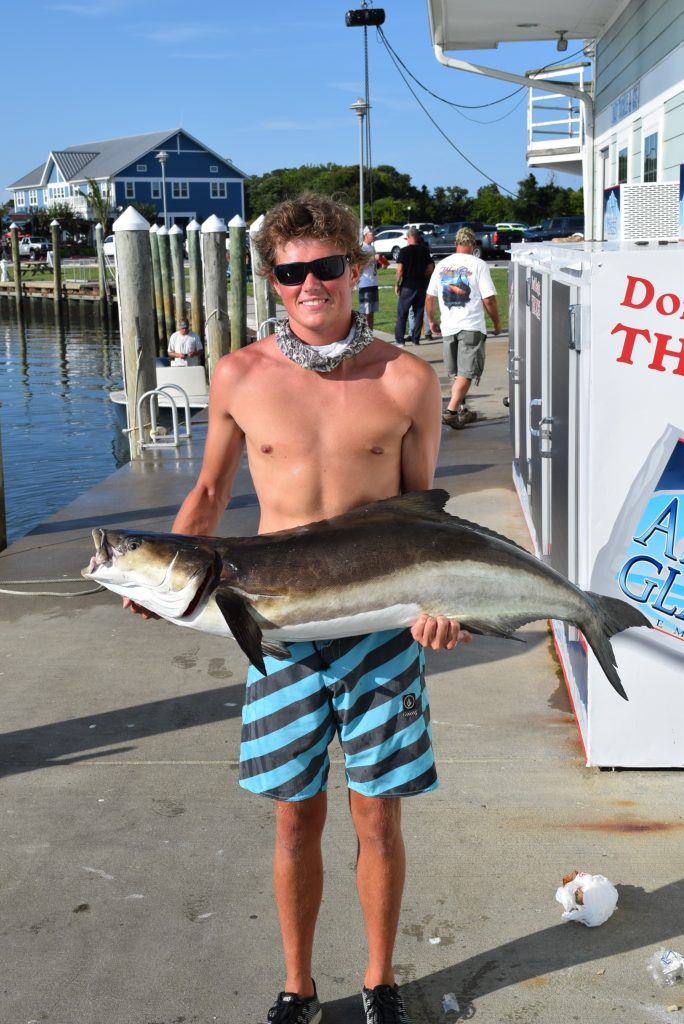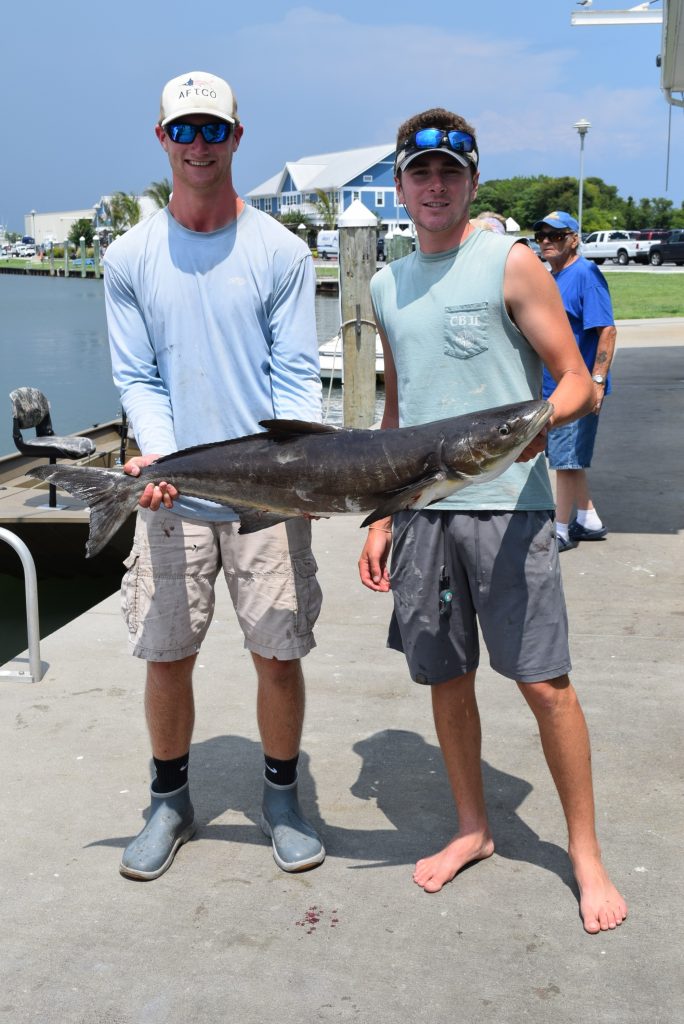 Photos courtesy of Hook 'em & Cook 'em.
As always, wishing everybody tight lines and good times!
Written on: August 9th, 2019 in Fishing Report
Well folks, it's the last day for the biggest tournament on the East Coast, if not in the world. Shout out to IRM's own Fish Whistle for currently holding the top spot in the White Marlin category! 
Good luck to all of the vessels, especially those representing Indian River, on this final day of fishing!
Here are some pictures from the past couple weeks of fishing: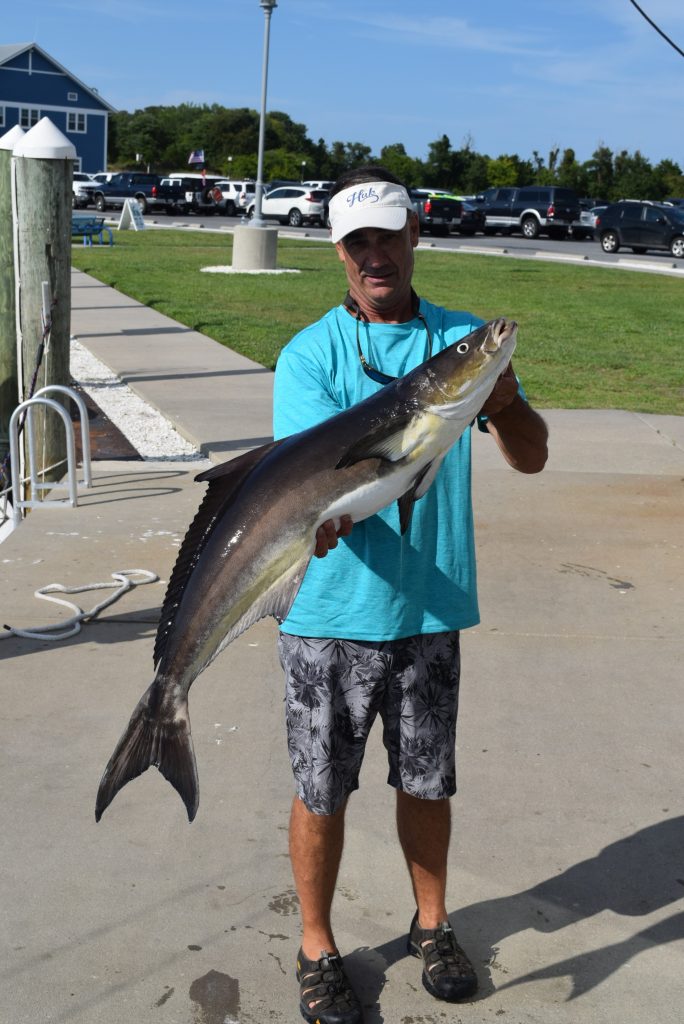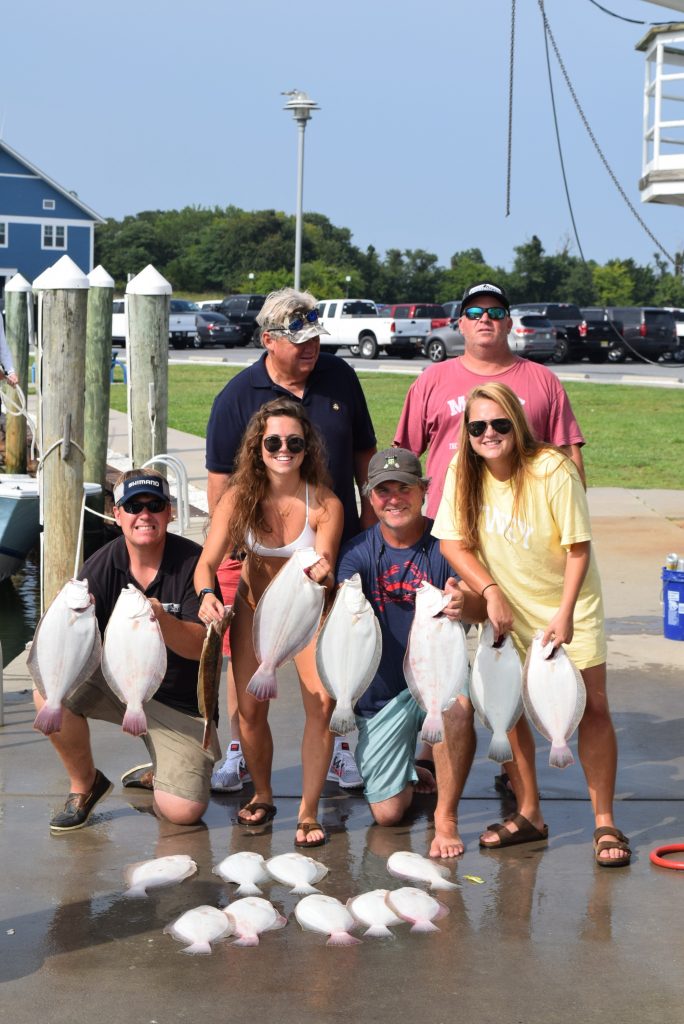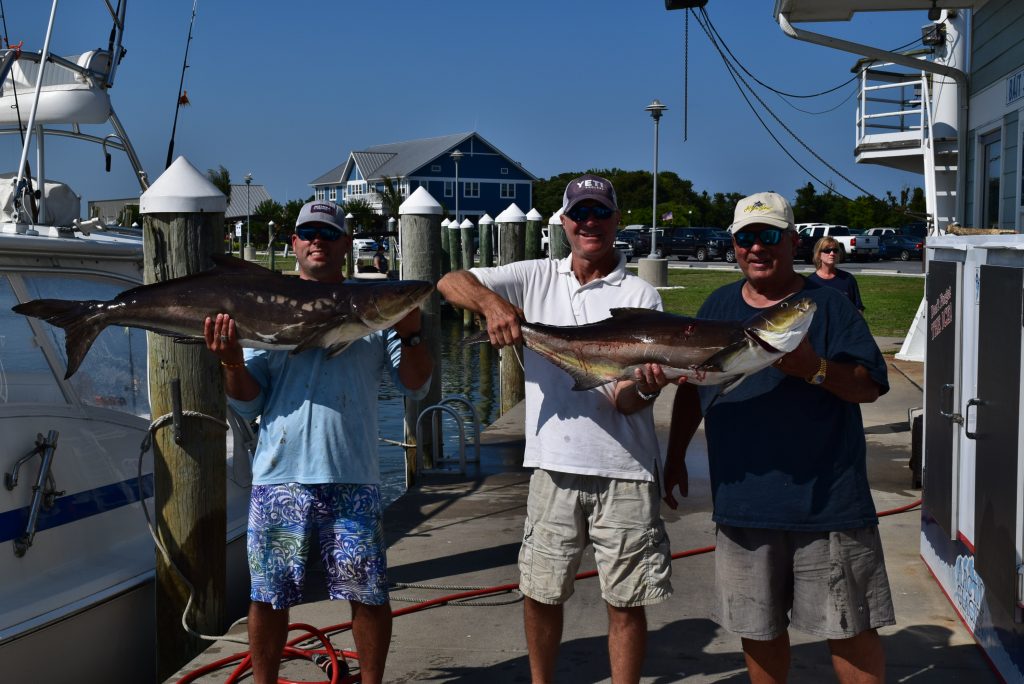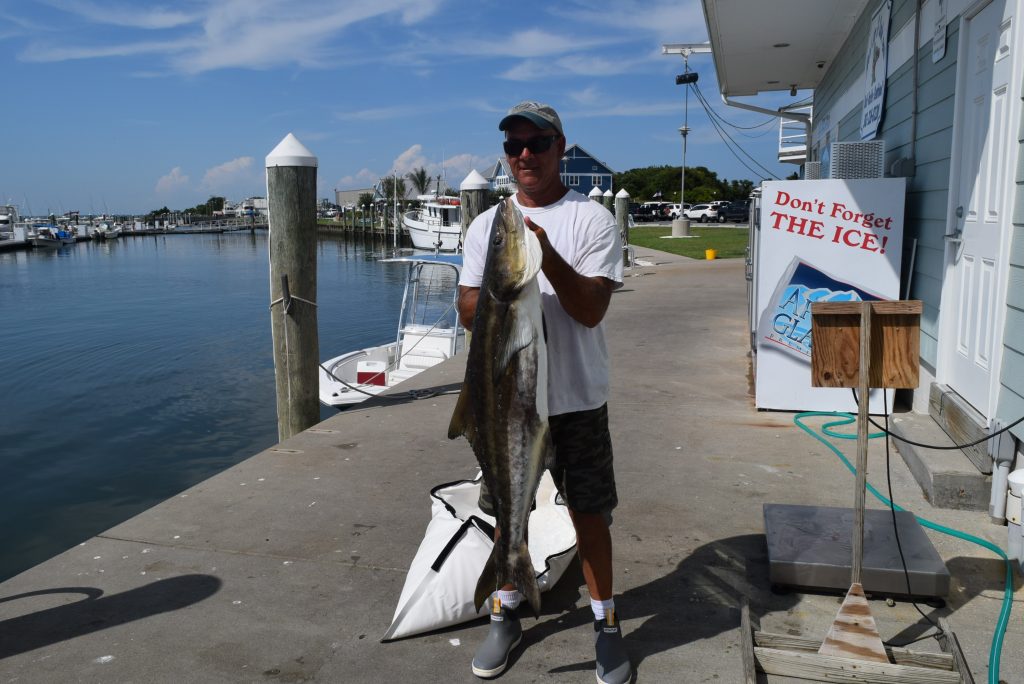 Signing off and, as always, wishing everybody tight lines and good times!
Written on: August 8th, 2019 in Fishing Report
Wow what a week for fishing.
Offshore we have seen Tuna, Mahi, Tilefish and Wahoo hitting the docks with plenty of White Marlin Releases which has been great for the White Marlin Open Tourney.
Inshore the Cobia have been incredible and we have a ton of pics that will be posted tomorrow.  We have seen some nice Flounder as well.
We have some slip-holders on the leaderboard at the White Marlin Open and we are wishing everyone fishing tomorrow the last day the best of luck!!!  We will keep you posted.   The weather is looking great  for the weekend so avoid the traffic and head on over for some good eats and cooool drinks.  
Check out our web-site for a list of our events for the Fall of 2019 it sure looks like alot of fun will be coming our way.
Till tomorrow Tight Lines & Sweet Times!!!
Written on: August 3rd, 2019 in Fishing Report
Welcome White Marlin Anglers!!!
We are looking forward to a great week of fishing here at IRM.
Offshore reports yesterday for the few boats that were out some nice size Yellowfin Tunas and beautiful Gaffers (Mahi).   The Golden Tilefish have been beautiful this summer and still hitting the docks in high numbers.  The White Marlin were back yesterday and thats a good sign for the big Tourney.
Inshore we still have nice Flounder hitting the docks and basically a mixed bag of fish which is fun for the entire family so give Carolyn a call and get hooked up at IRM for a great day of fishing.
Hammerheads is open daily with happy hour entertainment and lots of good eats and cool drinks.  Hookem & Cook'em has plenty of locally caught fresh fish for sale and all the Bait and Tackle you need from beginner angler to advanced.
Till next time Tight Lines & Good Times!!!
Written on: August 1st, 2019 in Fishing Report
COME GET HOOKED!!!
Inshore and Offshore fishing is great!   Tuna, Blue and White Marlin, Mahi, Golden Tilefish, Cobia, Bluefish, Flounder there has been all sorts of great fishing.
Alot of our anglers are getting geared up for the White Marlin Open that begins on Monday next week.  We will have alot of action on our docks so stop on by for a cool drink or bite to eat.  Then head on over to the scales to see what fish hit our docks in the afternoon.
Check out the web-site and save the date for the next great event here at IRM.
Till next time Tight Lines and Good Times!!!