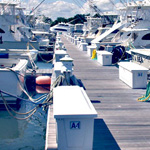 Written on: July 12th, 2014 in Fishing Report
It is shaping up to be a very busy weekend at Indina River Marina.  The parking lots are filling up and the boat ramps are seeing heavy use as everyone is hitting the water to get in on the fishing action.  Both headboats, Judy V and Capt. Bob are out with quite a few anglers today.  IRM slip holders are out fishing as well so I am sure we will have lots of pictures to share soon.
Heath and Beck Harry of Pittsburgh, PA, fished with Capt. Dave Collins on the Capt. Ike II on an overnight trip to the Poorman's. They trolled up one mako shark, three tuna and about a dozen mahi.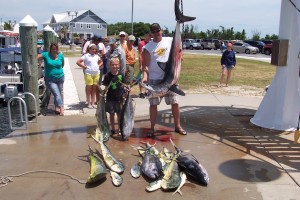 Nickie Gomes and Patrick Cronshaw of Newark, DE, took a trip out to the Tea Cup and trolled ballyhoo to catch this 46.2lb blue fin tuna and a 9.6lb mahi.
Until next time, tight lines and good times!
Photos courtesy of Hook 'em & Cook 'em.
Written on: July 9th, 2014 in Fishing Report
While the flounder bite has been lukewarm at best some anglers have managed to hook up.
Mary and Tyler Lewis of Germantown, MD, caught three keeper flounder while fishing on the head boat Judy V. with Capt. Eddie Wheedleton. They were fishing out at Site 10 using cut sea robin as bait.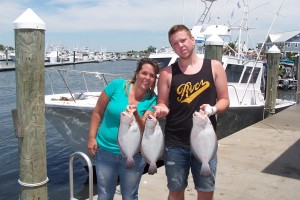 This 9.4lb and 30 1/2″ flounder was caught by Derek Hall of Hummelstown, PA on "Hall 'n Ass" with Scott Hall while fishing out at the Old Grounds with cut bait.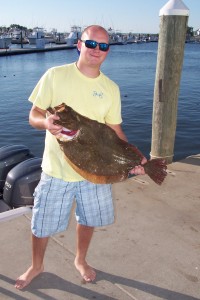 And Marty Downes of New York, caught a double header of a 10.5lb rock fish and a 6lb trout while using a Storm lure with a teaser in the Indian River Inlet.
Until next time, tight lines!
All photos courtesy of Hook 'em & Cook 'em
Written on: July 8th, 2014 in Fishing Report
This new state record 56.9 lb. Mahi-mahi was caught 7/6/14 on the Elizabeth Jane pleasure boat out of Indian River Marina; official weight verified by DNREC officials at Hook Em and Cook Em.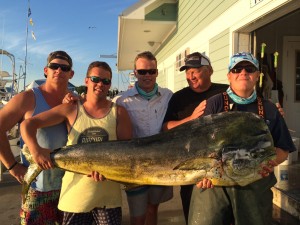 Pictured in the photo from left to right — Greg Catts, Jason King, Jamie King, Butch Emmert, Will Emmert.  Butch was the angler and the new record holder.
Great job everyone on the Elizabeth Jane!
Photo courtesy of Hook 'em & Cook 'em
Written on: July 5th, 2014 in Fishing Report
Arthur is gone and in his place is some gorgeous weather.  The wind is beginning to lay down and the Inlet is filling with boats.  On the docks a fair number of slip holders are in the midst of prepping to go offshore tomorrow.
In the meantime, Capt. Charlie Horning of the Fish Whistle took his crew of Johnny Horning, of Laytonsville, MD, Kevin Dimetio of Dover, DE and Bill McMahon of Lewes, DE to the Washington Canyon and hooked up on these BIG big eye tuna. They weighed in at 182lbs 201lbs and 253lbs. These were caught on the troll with ballyhoo.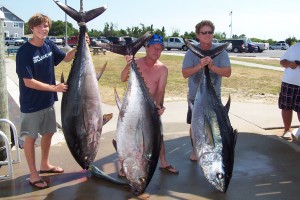 Susan Byrd of Pike Creek, DE, caught this 2.8lb and 26″ flounder while fishing in the Indian River Inlet using live minnows.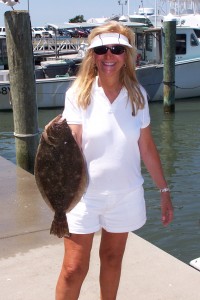 Photos courtesy of Hook 'em & Cook 'em
Written on: July 4th, 2014 in Fishing Report
HAPPY 4TH OF JULY!!!!   GO AWAY ARTHUR!!!!!!
We are weathering the storm well at IRM.  Heavy rain and winds as of 9:00am should all clear out of here late afternoon early evening.
The 1st Annual Kid's Catch-All was a huge success with 75 kids entered.  You can catch a glimpse of all the kids and their catches on a nice spread in the Coastal Fishermen.  We have plenty in the Lobby of the Marina Office.  Here are some pics from the past week of fishing.
One of our Charter's Galeforce with Captain Aaron Hurd aboard and crew landed 14 Keeper Flounder.  Nice catch!!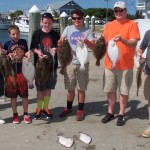 Here are some great catches of Flounder and Rockfish all  landed in the Inlet and off the Inshore Headboats docked at IRM.
Till after the Storm Tight Lines and Good Times!!
Pictures courtesy of Hook'em and Cook'em
Written on: June 28th, 2014 in Fishing Report
It has been a busy week at IRM preparing for the Kids Catch-All fishing tournament this weekend, but we still have some more pictures from the past week to share.  Be sure to stop by the weigh station near Hook 'em & Cook 'em on Saturday from 3 PM until 6:30 PM and Sunday from 3 Pm until 6 PM for tournament weigh-ins.  It is going to be a great weekend here at IRM!
Offshore there continues to be good tuna fishing in the canyons, while we are still seeing some hit or miss fishing inshore and in the bays.
Garrett Miller, Joey Kaiser and Don Miller of Hershey, PA trolled ballyhoo at the Baltimore Canyon and brought back some nice mahi and a yellow fin tuna.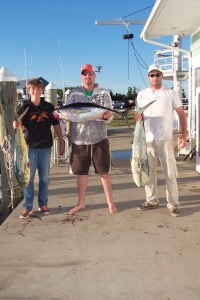 While fishing over Father's Day weekend the crew of "Get the Net" fished at the Baltimore Canyon. 9 year old Dawson Pianka his father John and brother Cody and Luke Ringler all of Lancaster, PA, had a great day of fishing. They had 3 mako releases with one landed weighing in at 100lbs. Also while at the Baltimore they caught some mahi, with one weighing in at 21.5lbs and 2 yellow fin tuna caught on the same line.
One was tail wrapped in the line with the hooked fish weighing in at 49.5lbs.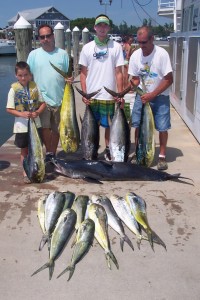 Steve Schwing, Larry Martin, Greg Hutton, Larry Horning and Tommy Hinkle all of Maryland caught these 9 yellow fin tuna while trolling ballyhoo in the Baltimore Canyon. They also reported a white marlin release.
The largest yellow fin tuna came to the docks at Indian River Marina on Friday morning after an overnight trip to the Baltimore Canyon. Angler Dr. David Moss of Jacksonville, FL, Capt. Dr. Glen Madara of Camden-Wyoming, DE and Mitchell Moskovitz of Northfield, NJ caught this 67lb yellow fin while trolling a squid spreader bar on the "Mary Stanger" of Millsboro, DE.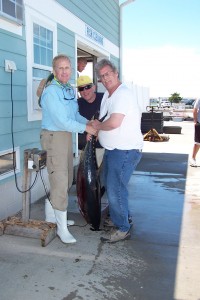 Alex Alperstein, Todd Fritchman, Dave Schulte, Jim Senker and Khris Hering of Baltimore, MD caught this 100lb mako shark, 12 yellow fin tuna and some mahi while trolling at the North tip of the Baltimore Canyon.
The yellow fins averaged between 30-50lbs.
Sharmaine "Smelt Girl" Weidman of Ocean View, DE, caught this 4.5lb and 24″ flounder with fishing with a minnow and squid along Burton's Island in the Indian River Bay.
All photos courtesy of Hook 'em & Cook 'em.
Written on: June 23rd, 2014 in Fishing Report
A lot of good fishing is going on here at Indian River Marina.  Offshore catches have included Yellowfins, Big Eyes, Bluefin Tuna and even a few White Marlin have been released.  We are also seeing a lot of great Shark fishing.  Inshore reports of Flounder, small Rockfish, Black Drum and a few Bluefish have come in. The Inlet and Back Bays have reported some nice Flounder being landed, too.
Fran Okoniewski of Wilm. DE, caught this 3.1lb 18″ long black sea bass while jigging open bottom 25 miles off shore.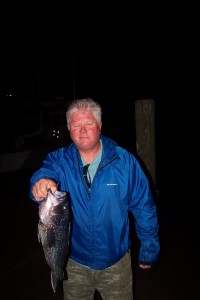 IRM dry stack customer Eugene Hall hooked into this nice 7.5lb and 27″ flounder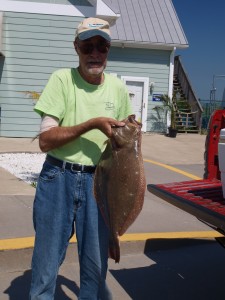 Nick and Shane Campbell of Wilm., DE helped their dad, Pete, catch this 8.4lb and 27.5″ flounder in the Indian RiverInlet.  Pete said he caught this fish using live spot.
Jerry Shockley of Frankford, DE, and David Steen and Allen Baker, both of Dagsboro, DE caught 12 keeper flounder fishing with shiners on white flounder rigs out at the Old Grounds.  The largest are pictured with the biggest weighing 6.4lbs.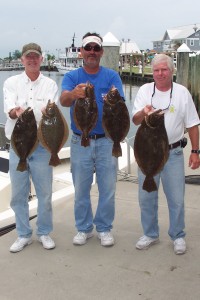 John Wakefield, Andie Nowakowski and Will and Butch Emmert of Rehoboth Beach, DE caught these keeper flounder and a croaker while fishing the Indian River Inlet.  They were using Gulp baits on jig heads.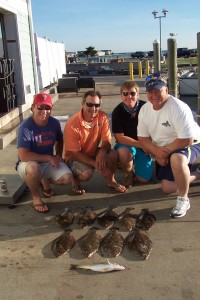 All photos are courtesy of Hook 'em & Cook 'em.
Written on: June 22nd, 2014 in Fishing Report
Inshore and offshore not much has changed since the last report.  In the Inlet rockfish and flounder are still hit or miss.
Butch Emmert of Rehoboth, DE caught this 5.4lb flounder fishing in the Indian River Inlet using a Gulp bait and cut croaker bait.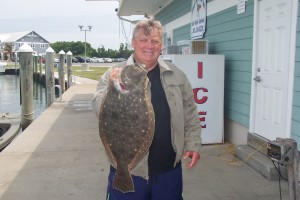 Jimmy & Johnny Coffiey of Bethany, DE, Pete Hesson of Frankford, DE, and Mike and Jim Baumgartner Enola, PA hit the motherload of flounder along with trout and a black drum all while fishing in the Indian River Inlet with Gulp baits at bubble gum beach.  The largest flounder weighed in at 4.3lbs the trout weighed in at 4.5lbs and the black drum weighed at 4lbs.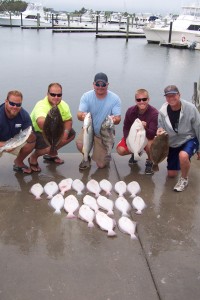 This 4.5lb and 23″ flounder was caught by Pete Mitten of Newville, PA on a live minnow while fishing at Massey's Landing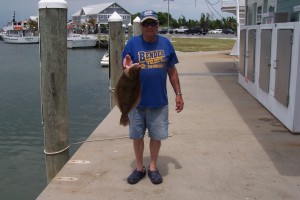 The Kid's Catch All Fishing Tournament is now less than a week away.  The weather is looking good so plan to join us for some great fishing, fun games, great giveaways, and delicious food from Bethany Blues and Hammerheads Dockside all while supporting the great work of the Lyme Disease Association of the Eastern Shore of Maryland which serves Sussex County.  For more information please visit http://www.destateparks.com/marinas/Catch-all-tournament-2014.asp or call 302-227-3071.
Photos courtesy of Hook 'em & Cook 'em.
Written on: June 20th, 2014 in Fishing Report
Lots of action Inshore and Offshore.  Inshore reporting a couple small Cobia, Rockfish and alot of Flounder this week.  Offshore reports some really good water moving in which has landed some nice Yellowfins, Mahi and a few White Marlin Releases all throughout the Canyons.  Its almost here the 1st Annual Kid's Catch-All Tournament and we have already been recieving registrations.  Join us for two fun filled days of fishing, food, entertainment and just some good ole fashion family fun.  No kid will go home empty handed!!!!
We have some nice reports with pics to follow !!
Don Wingate landed this nice 56.4 lb Yellowfin in the Wilmington Canyon.
One of our Charter boats Galeforce with Captain Aaron Hurd aboard and crew landed these nice Flounder the largest weighing in at 6.5 lbs.
The Headboat Judy V with Captain Ed aboard and one of his customers Greg Enright landed 2 nice Flounder.
Carter and Mike landed these Rockfish in the Inlet along the Coast Guard Station.
All pictures courtesy of Hook'em and Cook'em
Looks like a great weekend ahead weather and fishing is great so come on down or give us a call at 302-227-3071 and get hooked at Indian River Marina.
Tight lines and Good Times!!!
Written on: June 17th, 2014 in Fishing Report
We hope all you fathers had a great Father's Day weekend.  Offshore and Inshore fishing over the weekend was a bit slow.  Some colder water moved in with the weather front on Friday.  Still some nice Yellowfin, Longfin and a few Bluefin Tuna were reported Offshore.  We had reports of incredible Shark fishing with Mako's, Hammerheads and Blue shark releases.  Inshore reports of scattered Rockfish, sheepshead and a Flounder or two.  Looks like some nice weather ahead of us so give us a call and get hooked up on your own fishing charter at Indian River Marina.
David Brickman of Selbyville, DE was fishing along Fenwick Shoals for bluefish when he hooked up with this 3lb sheepshead.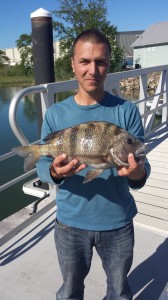 Lenny Gettle of Richland, PA caught this 29.8lb rockfish while fishing along the jetty at the Indian River Inlet.  Leon Martin of Lebanon, PA was not as lucky, but still caught a nice 10lb rockfish with the same set up.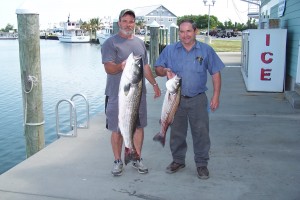 And don't forget to sign the kids up for a weekend of fun and fishing in the 1st Annual Kids Catch All Tournament with proceeds benefiting the Eastern Shore of MD Lyme Association serving Sussex County, De. June 27-29th at the IRM.
Till next time Tight Lines and Good Times
Photos courtesy of Hook 'em and cook 'em